Five firms in October submitted bids for the Design Verification Engineer (DVE) contract of Indore Metro and Bhopal Metro's Phase 1 projects after Madhya Pradesh Metro Rail Co Limited (MPMRCL) opened technical bids.
The DVE appointed by MPMRCL will be responsible for design verification of all architectural, civil, geotechnical, structural, water supply, sewage, drainage designs for elevated stations and underground stations including temporary and permanent structures of the following packages:
Indore Metro: IN04 (5.2 km elevated) and INO5 (8.6 km underground)
MPMRCL had invited bids for this consultancy service in May 2023 with a Rs. 28.71 crore estimate and 4 year contract duration.
Bidders
Ayesa India Pvt. Ltd.
Consulting Engineers Group Ltd.
Egis Rail S.A
STUP Consultants Pvt. Ltd.
SYSTRA MVA Consulting (India) Pvt. Ltd.
Brief Scope: Design Verification Engineer (DVE) services for construction of Elevated Viaduct including Stations, Ramps and Tunnelling works including underground stations for Bhopal and Indore Metro Rail Projects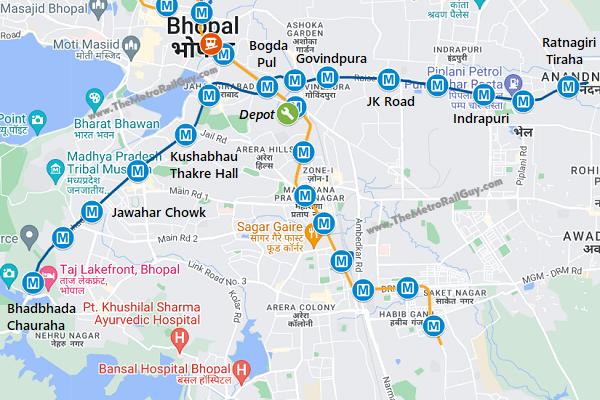 The bids are currently undergoing technical evaluation. When completed, the financial bids of the technically qualified bidders will be opened to reveal who's the lowest bidder and most likely consultant.
A tender notice is currently pending for Indore Metro Package IN-05's construction work, which is why I haven't linked it up to a post above. That 8.626 km long underground section will connect Indore Railway Station and Indore Airport via 7 stations.
Technical bid evaluation is underway for the rest 4 packages (BH-03, BH-04 and BH-05 and IN-04) that are part of the DVE's scope. Check out each link for a brief scope and list of bidders.
For more updates, check out the Bhopal & Indore sections or my Home Page! Sign up for free instant email notifications on new posts over here. Like this post? Get early-access to updates and support the site over here.
– TMRG