Odisha Government's cabinet led by its Chief Minister on Tuesday approved construction of Bhubaneswar Metro's Phase 1 project at an estimated cost of Rs. 5926.38 crore.
Per Bhubaneswar Metro's Detailed Project Report (DPR), Phase 1 with one elevated line will be 26.024 km long and connect Trisulia Square with Bhubaneswar's Biju Patnaik Airport via 20 elevated stations. The project will be executed by Bhubaneswar Metro Rail Corporation, a fully owned company of the state government.
Delhi Metro Rail Corporation (DMRC) has been appointed as Bhubaneswar Metro's General Consultant at a fixed fee of Rs. 326.65 crore. Their 'implementer' role here would be similar to their prior roles in Jaipur Metro, Kochi Metro, Mumbai Metro's Line-2A & 7 and ongoing role at Patna Metro.
Odisha government plans to lay Bhubaneswar Metro project's foundation stone in January 2024. They've set a 4 year deadline to operationalize the system which will be powered by a 750V DC traction Third Rail system.
20 stations are planned to be built at Biju Patnaik Airport, Capital Hospital, Sishu Bhawan, Bapuji Nagar, Bhubaneswar Railway Station, Ram Mandir Square, Vani Vihar, Acharya Vihar Square, Jaydev Vihar Square, Xavier Square, Rail Sadan, District Centre, Damana Square, Patia Square, KIIT Square, Nandan Vihar, Raghunathpur, Nandankanan Zoological Park, Phulapokhari and Trisulia.
The project's train maintenance depot will be built on a 18.50 hectare parcel located about 2.5 km west of Phulapokhari Station.
Here's a rough / indicative alignment of the project I've made based on a couple maps I've seen in various official presentations, with terminals and key stations marked: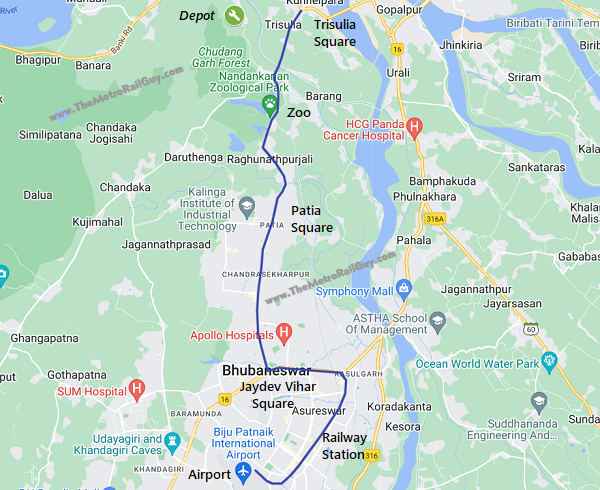 CEG Test House and Research Centre on behalf of DMRC this summer conducted geotechnical soil investigation along the line's route. The results from those will be included in civil construction tender documents to help bidders make more accurate calculations.
DMRC is currently in the process of preparing the system's masterplan to connect Cuttack, Khurda and Puri. They invited bids for its preparation in August and opened financial bids in September. If someone reading is aware of the bidder names and/or results, then leave a comment below or shoot me a message via the Contact page.
The next step for DMRC would be to appoint a Detailed Design Consultant (DDC) for producing and proposing alternate designs of all civil, architectural, building services, electrical and mechanical works.
With this development, Bhubaneswar Metro is on track to become India's 22nd metro rail system to enter the construction stage. I've created a new information page and added the project to the website's menu bar (Metro > Approved). Check it out here: Bhubaneswar Metro – Information, Route Map, Fares, Tenders & Updates
For more updates, check out the Bhubaneswar Metro section or my Home Page! Sign up for free instant email notifications on new posts over here. Like this post? Get early-access to updates and support the site over here.
– TMRG