Back on October 27, CRRC rolled out the first of 15 new trains for 19.143 km Bangalore Metro Yellow Line (Reach 5) which will connect RV Road – Electronic City – Bommasandra via 16 stations.
The train's first look inside CRRC's Puzhen plant in Nanjing was leaked in September when it was undergoing factory acceptance tests (FAT).
This 6-coach train is the first of two trains that will be shipped from China as part of Bangalore Metro Phase 2 project's 36 train (216 coach) contract 4RS-DM awarded by Bangalore Metro Rail Corporation Ltd (BMRCL) in December 2019. The rest 34 trains will be assembled locally by Titagarh Rail Systems in West Bengal.
Here are some snaps from the roll-out ceremony, attended by BMRCL's officials, via Chinese website OurJiangsu and shared by WF_Watcher on X:
Out of 216 coaches, 126 coaches (21 trains of 6 coaches) will be deployed on the purple and green lines, alongside the existing 56 trains supplied by BEML. The rest 15 new trains with 6 coaches each will be deployed on the new Yellow Line (Reach 5) connecting RV Road – Electronic City – Bommasandra via 16 stations.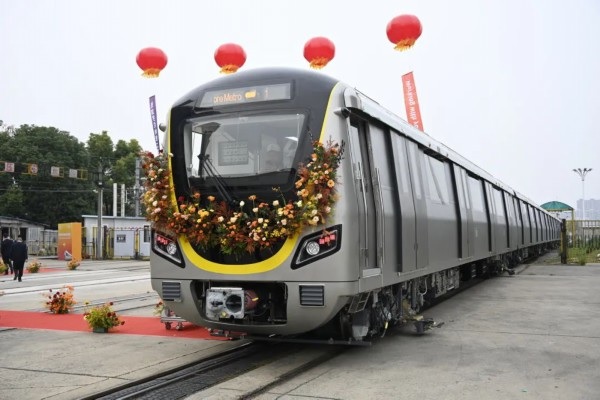 Per OurJiangsu "after a loud flute for the first train of the project, the guests attending the ceremony boarded the first train and experienced the first train made in Puzhen up close".
Note the electronic signages (digital displays) above the doors – a first for Bangalore where its existing BEML trains have static LED lights. These electronic signages can be configured by BMRCL to provide a map of the line, upcoming station information, time remaining to upcoming stations, real time alerts for closures and advertising.
This train is part of CRRC's 7th and largest order for metro projects in India – view order history.
Assuming the train was dispatched after the roll-out ceremony, I'm looking at an early to mid December arrival into Bangalore city looking at historic shipping timeframe of other projects' metro coaches and tunnel boring machines (TBMs) from China.
Meanwhile, Titagarh earlier this month received at least 6 car body shells at their plant in Uttarpara near Kolkata. They'll now be equipped with interior, electrical & mechanical fittings and undergo testing, so we're easily at least 4 months from seeing the first local train rolling out.
As shared in the past, at this time I see this line opening up no sooner than Q3 (July-Sept) 2024 and wouldn't be surprised if the line ends up opening in 2025.
For more updates, check out the Bangalore section or my Home Page! Sign up for free instant email notifications on new posts over here. Like this post? Get early-access to updates and support the site over here.
– TMRG