Navi Mumbai Metro – Information, Map & Updates
Menu: Construction Updates | Overview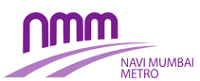 Introduction
The Navi Mumbai Metro system is an urban Mass Rapid Transit System (MRTS) that is being built to serve the area of Navi Mumbai in Maharashtra. Construction for its 11.10 km first phase from CBD Belapur to Pendhar with 11 stations started in November 2011 and is expected to be completed by 2018/19 owing to delays in receiving key approvals. Although the Maharashtra government has released a 106.40 km master plan comprising of 6 lines, it is unlikely that it will be followed. New metro lines are expected to be announced once construction for the Navi Mumbai Airport project is kick-started.
Key Figures
Operational: 0 km | Under Construction: 11.10 km | Proposed: 95.30 km

Under Construction Network: Line-1
The embedded map below shows the exact location of all stations and can be zoomed into!
Stations:
Line 1: CBD Belapur, Sector 7, CIDCO Science Park, Utsav Chowk (Khargar), Sector 11, Sector 14, Central Park, Pethpada, Sector 34, Panchanand, Pendhar
List of Major Contractors
| | | |
| --- | --- | --- |
| Package | Contract | Contractor |
|  GC | General Consultant | Louis Berger – Balaji Railroad System JV |
|  RS | 24 Coaches (Rolling Stock) | CSR Zhuzhou |
|  System | Signalling, Telecommunications , Automatic Fare Collection | Ansaldo STS |
|  Depot | Construction of Taloja Depot | J Kumar – CRTG |
|  CA 1 | Construction of 4.91 km viaduct from Khargar Sector 14 – Pendhar | NCC Ltd. |
|  CA 2 | Construction of 4.34 km viaduct from Belapur to Khargar Sector 14 | J Kumar Infraprojects |
|  CA 12 | Construction of 6 stations at CBD Belapur, Sector 7, CIDCO Science Park, Utsav Chowk, Sector 11 & Sector 14 | San José Constructora – Mahavir Roads – Supreme Infra JV |
|  CA 13 | Construction of 5 stations at Central Park, Pethpada, Sector 34 Kharghar, Panchanand & Pendhar | San José Constructora – Mahavir Roads – Supreme Infra JV |
Menu: Construction Updates | Overview