J Kumar Infraprojects on Thursday announced it had been awarded a Rs. 168.22 crore contract for completing balance / pending works on Navi Mumbai Metro's 11.10 km Line-1 connecting CBD Belapur – Pendhar through 11 stations.
The scope of package NM1-C-01 deals with pending work at 6 stations in the southern half of the line between Sector 14 and CBD Belapur. The original construction contract for these stations was awarded to San José Constructora – Mahavir Roads – Supreme Infra JV back in June 2012 and I believe terminated in 2018.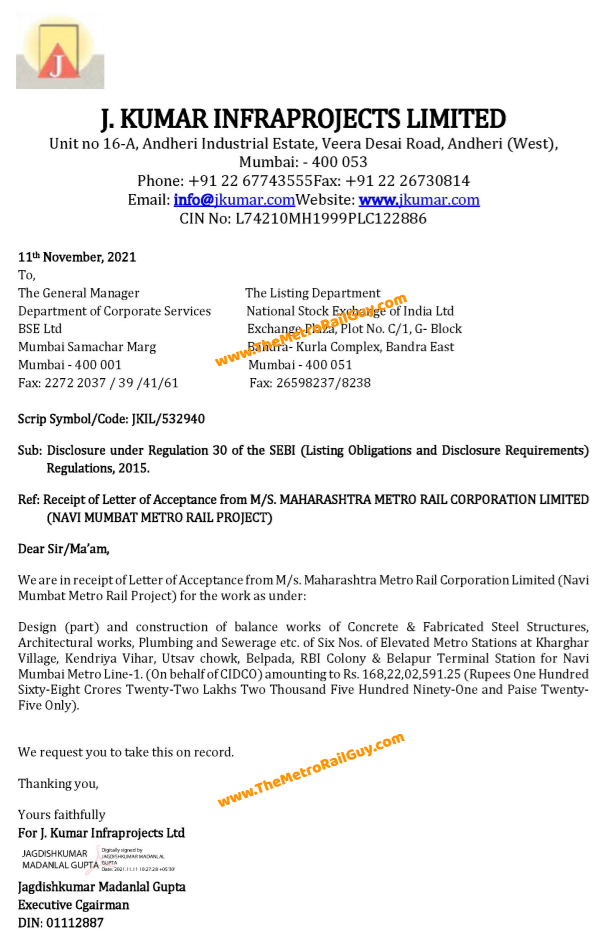 Maharashtra Metro Rail Corporation (Maha Metro) invited tenders for this package in April 2021 right away they formally took charge of the project in February. They estimated it cost Rs. 103.65 crore and would like work to be completed within a tight 12 month deadline.
For my own research purposes – if someone is aware of all bidder names and their bid values, then please leave a comment below or connect with me through the Contact page.
Tender: NM1-C-01/2021
Scope: Design (part) and construction of balance works of Concrete & Fabricated Steel Structures, Architectural works, Plumbing and Sewerage etc. of Six Nos. of Elevated Metro Stations at Kharghar Village, Kendriya Vihar, Utsav chowk, Belpada, RBI Colony & Belapur Terminal Station for Navi Mumbai Metro Line-1. (On behalf of CIDCO)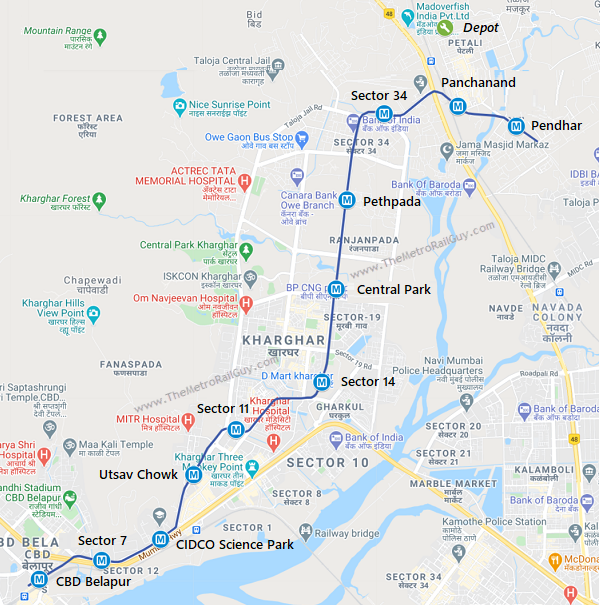 As shared earlier – the brief scope indicates a station rename might have taken place. If true, then Sector 14 is now Kharghar Village, Sector 11 is now Kendriya Vihar, Utsav Chowk is unchanged, CIDCO Science Park is now Belpada, Sector 7 is now RBI Colony, and CBD Belapur is now Belapur Terminal.
A new deadline for starting commercial operations has not been announced, but things are moving along on the trial runs front opening up the possibility of a mid-2022 partial opening of at least the northern section (Pendhar – Central Park) with the rest opening later in 2022-end or 2023 (most-likely).
For more updates, check out the Navi Mumbai section or my Home Page!
– TMRG