After my premature Throwback Thursday celebrations on Tuesday (see: #TBT – Images from Delhi Metro TBM's Breakthrough at Shankar Vihar Shaft), I'm now ready to celebrate an actual TBT with even bigger news!
The Delhi Metro's contractor for CC32, ITD Cementation, has completed tunneling all 6 tunnels on the Palam – Shankar Vihar section of the new 36.98 km Magenta line! This section includes twin tunnels between:
1) Palam station to the shaft west of Saddar Bazaar
2) Shaft east of Saddar Bazaar to the Domestic terminal of IGI Airport
3) Domestic terminal of IGI Airport to the Shankar Vihar shaft
I've marked the location of all those places in the following map: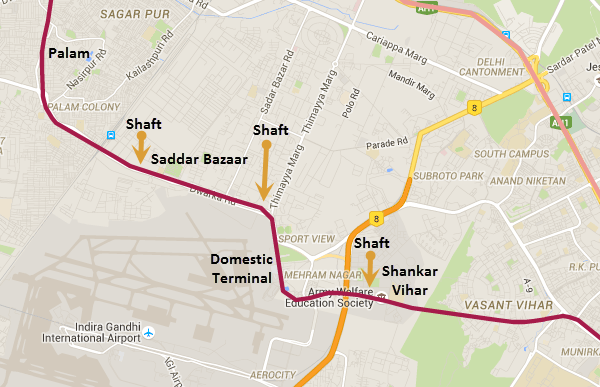 What's interesting about this section of the Magenta line is the intermingling of different contractors:
CC27 – L&T SUCG – responsible for tunneling from Hauz Khas to the shaft east of Shankar Vihar
CC 29 – Afcons Infra – responsible for viaduct and 2 stations at Saddar Bazaar & Shankar Vihar
CC32 – ITD Cementation – responsible for tunnels between Palam – Shankar Vihar shaft and all stations except Saddar Bazaar
Their respective sections have been marked in different colors below (see caption):
And now for the images of the final breakthrough that you've been waiting for. The breakthrough took place on June 16 2015 at ITD Cem's Shankar Vihar shaft which is adjacent to NH-8 (see on google maps). Due to hard rock present on the Airport-Shankar Vihar stretch, the 1275 meter drive was completed in 361 days. You'll notice the breakthrough date indicated on the banner as "June 17" because that's what they estimated during the time of printing it, but the breakthrough took place a day early, ha!
The completion of this section combined with the news of the completion of the Janakpuri west – Palam section from last month (See: Delhi Metro Completes Janakpuri West – Palam Tunnels on Magenta Line) means that all the tunnels from Janakpuri west to Shankar Vihar are now complete!
While I enjoy some home brewed beer to celebrate this development, you can to choose to either virtually join me or if you're hungry for more updates, then you may head to the Delhi section of The Metro Rail Guy!
– TMRG