Hat tip to reader Pankaj for sharing this news.
The Noida Metro Rail Corporation in consultation with the Delhi Metro Rail Corporation has decided to color-code Noida's 30 km under construction metro line to Greater Noida in Aqua making it the National Capital Region's 'Aqua Line'. Until very recently, the DMRC had color-coded it in Brown on their website after it became available to use in early 2015 when they abruptly discarded off Brown in favor of Pink for naming Delhi's 58.6 km ring line.
This line is being targeted by the NMRC to open by 2017-end and will feature 21 stations (see map) operated & maintained by the DMRC for a period of 3 years. Last week, the central government became a stakeholder in the project and committed to funding Rs 1034 crore over the course of the next 3 years.
local media coverage:

Here's how National Capital Region's metro map will look like once this line, the Delhi Metro's 160 km Phase 3 and Gurgaon Metro's 7 km Phase 2 go live section by section in the next 2 years.
Delhi Metro: 350 km | Noida Metro: 30 km | Gurgaon Metro: 12 km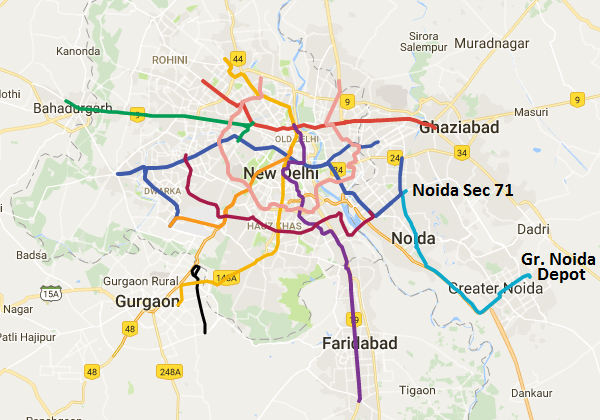 The entire map can be viewed here.
With 2 new lines planned in Phase 4 and more phases in the pipeline, it'll be interesting to see what nomenclature strategy the DMRC adopts in the coming years.
For more updates, check out the Noida – Greater Noida section of The Metro Rail Guy!
– TMRG