Officials from Maharashtra Metro Rail Corporation (MahaMetro) and ITD Cementation India on Thursday conducted a groundbreaking / bhoomi puja ceremony to launch construction work on the 18.557 km east-west line's Reach 4 section between Sitabuldi and Prajapati Nagar in east Nagpur. This 8.15 km elevated section is overall the 3rd of 4 sections in the city where construction has commenced, with work well underway at Reach 1 (Sitabuldi-Khapri) and Reach 3 (Sitabuldi-Lokmanya Nagar).
A major part of this section's viaduct will be built on the congested Central Avenue or "CA Road" with a roughly 1 km double-decker structure at Pardi and 8 new stations at Nagpur Railway Station, Dosar Vaisya Square, Agrasen Square, Chittaroli Square, Telephone Exchange, Ambedkar Square, Vaishnao Devi Square and Prajapati Nagar. Coincidentally, ITD Cementation emerged as the lowest bidder for the stations' construction in May and is expected to be awarded its contract in the coming weeks.
Images:
Phase 1's Status
Green: Under Construction (Viaduct & Stations) – Reach 1 & 3 | Red: Under Construction (Viaduct) & Financial Bids Opened (Stations) – Reach 4 | Purple: Bids Invited (Viaduct) & Bids Yet to be Invited (Stations) – Reach 2 | Black: Bids Yet to be Invited – Sitabuldi Interchange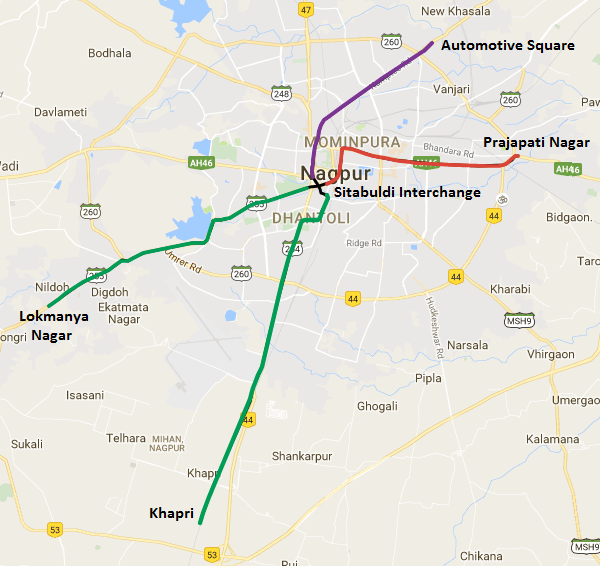 For more updates, check out the Nagpur section of The Metro Rail Guy!
– TMRG