After completing track & electrification works on the up-line inside the Gurdwara Emergency Shaft, the Delhi Metro Rail Corporation on this Wednesday launched trial runs (testing) on the 14 km Mukundpur – Mayapuri section of the Delhi Metro's 58.59 km Pink Line. When ready in 2018, this will become the longest line of the city, connecting Mukundpur to Shiv Vihar under the 160 km Phase 3 project, in a circular fashion primarily along the Ring Road.
This morning the DMRC 'officially' launched trial runs, possibly for the media, and a statement is expected to be released during the day. In the first round, DMRC's engineers primarily observed the train's interaction with the civil structure (tunnels & viaduct) to ensure there are no physical obstructions along the way.
Trial runs have commenced through 10 stations located at Mukundpur, Majlis Park, Azadpur, Shalimar Bagh, Netaji Subhash Place, Shakurpur, Punjabi Bagh West, ESI, Rajouri Garden and Mayapuri. The 4.8 km Majlis Park – Netaji Subhash Place section is underground while the rest is elevated.
Images from Wednesday –
Images from today (Thursday) morning's 'official' run on which the DMRC's MD was on-board –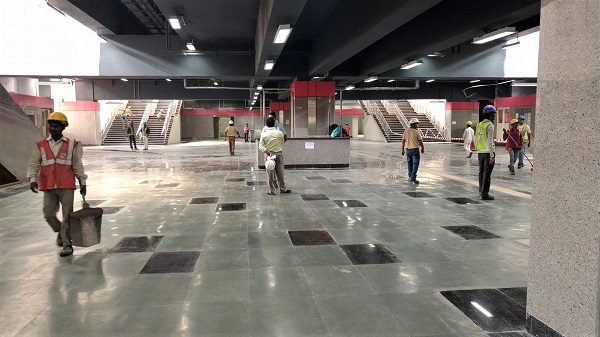 Stay tuned for an official statement from the DMRC!
Update: In the first round, DMRC will test only the 6.5 km Shakurpur – Mayapuri section. Here's their press release:
The Delhi Metro Rail Corporation (DMRC) today started trial runs on the 6.5 kms stretch between the Shakurpur and Mayapuri elevated section of the upcoming 59 kms long Majlis Park – Shiv Vihar corridor (Line 7) of Phase 3, also known as the Pink Line. The Trial Runs were flagged off by Dr. Mangu Singh, Managing Director, DMRC in the presence of DMRC Directors and senior DMRC officials. On completion, this corridor will become the longest corridor of the Delhi Metro Network.

During these trials, the interface of the Metro train will be checked to ensure that there is no physical infringement with civil infrastructure during the movement of the train on the track and also testing of various subsystems of coaches shall be done.
– continue reading…
Update-2: Here's what the down-line tunnel between Azadpur and Majlis Park looks like right now which prevents DMRC from launching proper trials, through both up and down lines, in the northern section between Shakurpur and Mukundpur.
For more updates, check out the Delhi section of The Metro Rail Guy!
– TMRG