Phase 3's tunneling works are over!
On Saturday morning, TBM S780 – a Herrenknecht tunnel boring machine operated by the CEC-CICI JV recorded the 4th and final TBM breakthrough at the Delhi Metro's Gurdwara Emergency Shaft in north Delhi's Rameshwar Nagar for package CC-04 on the 58.596 km Pink Line of the 160 km Phase 3 project.
This TBM, along with S781, were commissioned from Azadpur Station in 2014 to build the 1100m twin tunnels towards the Majlis Park Ramp, but met with a large mass of intact rock which prevented both TBMs, configured primarily for soft-ground, from tunneling any further beyond Rameshwar Nagar. Following that, an emergency mid-shaft had to be constructed, and 2 rescue TBMs had to be leased from the HCC-Samsung JV (CC-34 on Magenta Line) & deployed from the opposite end for constructing the pending 600m twin tunnels.
Timeline of Azadpur – Majlis Park section's breakthroughs:
• November 2016 – TBM S781 (up-line)
• December 2016 – TBM S495 (up-line)
• March 2017 – TBM S496 (down-line)
• April 2017 – TBM S780 (down-line)
The DMRC has kept this section's tunneling issue under the wraps and hasn't ever acknowledged it as the primary reason for delays in Pink Line's testing and subsequent commissioning in north Delhi. All media reports, which are meticulously fed & influenced by DMRC's PR department, have till now only blamed external agencies for land acquisition issues in Punjabi Bagh, Mayapuri, Trilokpuri and Hasanpur.
For further reading on the Gurdwara Shaft and why this shaft became necessary to be constructed for commercial operations to begin on the Pink Line, see the following posts:
• 1st Rescue TBM Commissioned for Delhi Metro's Pink Line
• Last TBM Commissioned for Delhi Metro's Pink Line at Majlis Park
• Excavation Begins for Delhi Metro's Rameshwar Nagar Mid-Shaft
• Excavation Begins for Last Level of Delhi Metro's Gurdwara Shaft
Breakthrough image: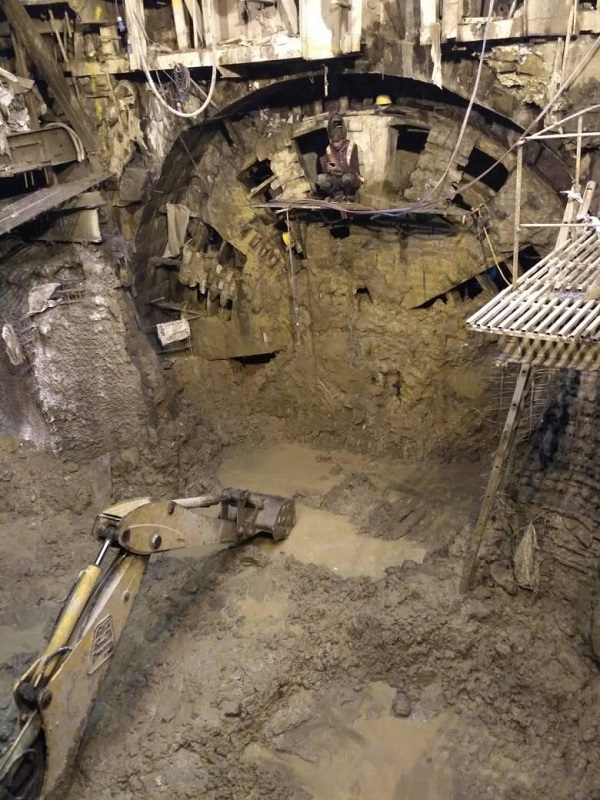 Here's an image of the TBM's cutterhead being hoisted up and removed from inside the shaft: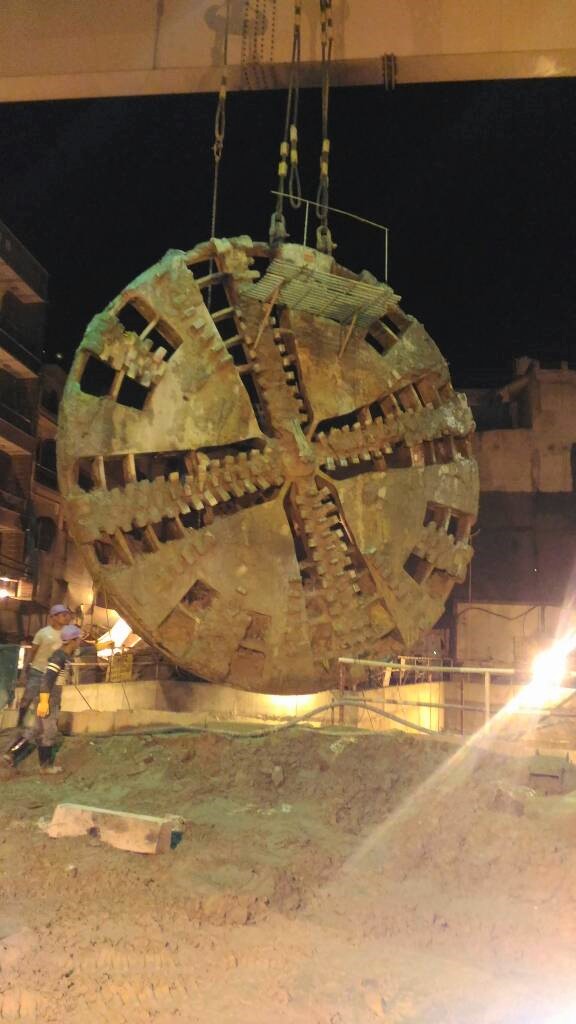 And here's an image of the TBM's shield without its cutterhead: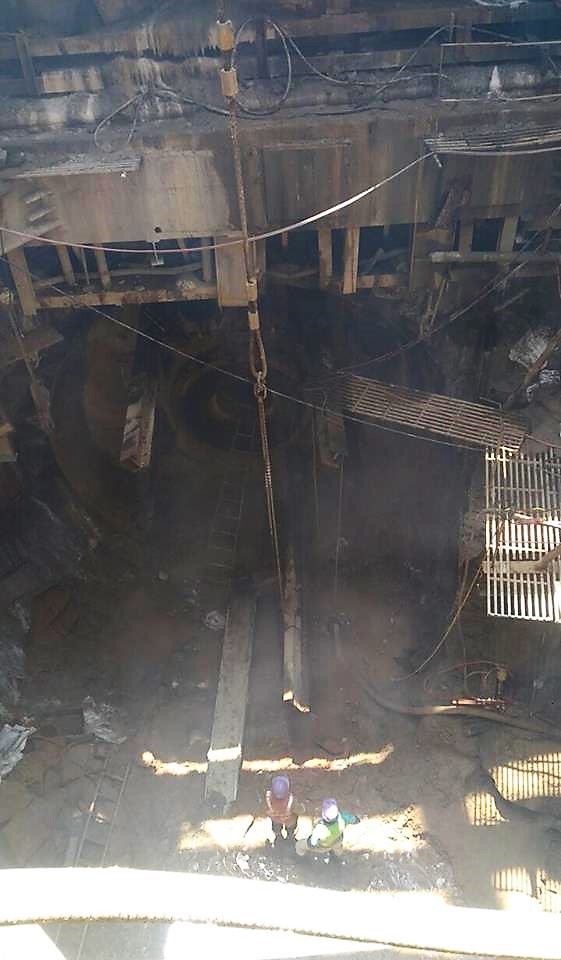 With this breakthrough out of the way, all Phase 3 tunneling works (2 x 53.8 kms) have come to an end. That figure is more than Phase 1 and Phase 2's (2 x 48.06 km) combined underground route length.
Any sort of testing on the Pink Line is expected to be carried out first through the up-line tunnel which was completed in December 2016 by TBMs S495 and S781. This will take a further 3-6 months and really depends on how quickly S780's parts are removed and the shaft's RCC civil works are completed to prevent its collapse for the safe passage of trains to conduct testing. That said, commercial operations on the line's western half (Mukundpur – Mayur Vihar Pocket-1) will only start in 2018 as I've highlighted in previous other posts.
For more updates, check out Delhi section of The Metro Rail Guy!
– TMRG