On October 24, the Maharashtra government's cabinet headed by Chief Minister Devendra Fadnavis approved the detailed project reports for two new elevated metro lines in the city's northern suburbs. This includes the 23.50 km Line-5 connecting Thane – Bhiwandi – Kalyan and the 14.47 km Line-6 between Swami Samarth Nagar (Lokhandwala Complex) – Jogeshwari – Kanjurmarg – Vikhroli.
The DPRs for both projects were prepared by the Delhi Metro Rail Corporation (DMRC) and were approved by the Mumbai Metropolitan Region Development Authority (MMRDA) in October 2016. Both lines have been designed to run a maximum of 6 coaches.
Here's the government's official press release in Marathi –
Line-5 (Thane – Bhiwandi – Kalyan)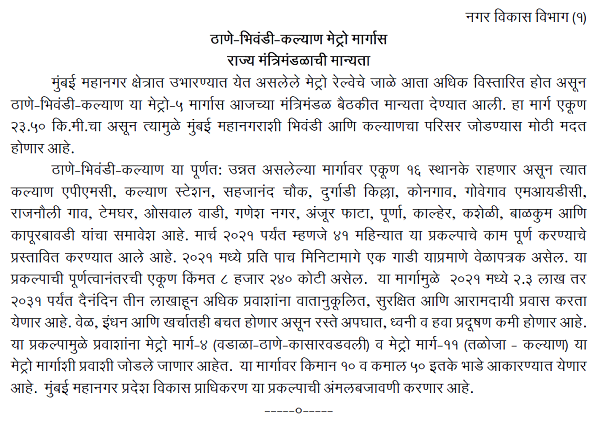 Line-6 (Swami Samarth Nagar – Jogeshwari – Vikhroli)
Summary –
• Line-5 (shown in Lime Green below) has been estimated to cost Rs. 8,240 crore and will consist of 16 stations at Kalyan APMC, Kalyan Station, Sahajanand Chowk, Durgadi Fort, Kon Gaon, Gove Gaon MIDC, Rajnouli Village, Temghar, Oswal Wadi, Ganesh Nagar, Anjur Phata, Purna, Kalher, Kasheli, Balkumbh Naka and Kapurbawdi. The depot's location hasn't been revealed.
• Line-6 (shown in Brown below) has been estimated to cost Rs. 6672 crore and will consist of 13 stations at Swami Samarth Nagar, Adarsh Nagar, Jogeshwari(W), JVLR, Shyam Nagar, Maha Kali Caves, SEEPZ Village, Saki Vihar Road, Ram Baug, Powai Lake, IIT Powai, Kanjurmarg (W), Vikhroli-EEH. The line's depot will come up at Kanjurmarg.
The government hasn't disclosed how they'll fund these lines or provided a list of interested banks/organizations willing to provide a development loan, but expects civil work to start in 2018 and optimistically open both lines by March 2021 – which is not possible to achieve.
If the development of Line-2 & Line-7 is anything to go by, then they won't utilize central government funds (effectively bypassing the new Metro Rail Policy's requirements) and will commence civil work utilizing city-state funds while arranging for additional funds via a loan to fund the acquisition of systems such as rolling stock, signalling and telecommunications.
For more updates, check out the Mumbai section of The Metro Rail Guy!
– TMRG