Workers from the ITD-ITD Cem India JV have started tying up rebar for the first set of piers (pillars) for Bangalore Metro's 19.143 km Line-3 which will connect Bommasandra and RV Road stations under the 73.95 km Phase 2 project.
These piers are located north of the U-shaped grade separator over Hosur Road near the National Highway Authority of India's office in Electronic City, and are a part of package Reach-5's 6.418 km Package-1 (Bommasandra – Hosa Road) which was awarded in April 2017 for a value of Rs. 485.52 crores.
Some images –
Next steps: More rebar will be used to tie the existing rebar horizontally (see example). Once done, formwork (see example) will be brought in to facilitate a concrete pour and mold the skeletal framework into the desired shape.
Demolition works by BR Chawla and construction work by ITD Cem on this line is going on in bits and pieces wherever land has been acquired and the contractors have a clear right-of-way – see images on my Twitter handle. Here's a video uploaded on November 19 which shows barricades at different places along the line's route between Silk Board and Electronic City –
The 1st segment for the line's viaduct was cast earlier this month. As per BMRCL's November 2017 newsletter, compensation packages for 503 out of 545 (amounting to Rs 1360.03 crores) have been sent to KIADB for payment and compensation amounting to Rs. 889.46 crores has been paid for 296 properties.
More tidbits –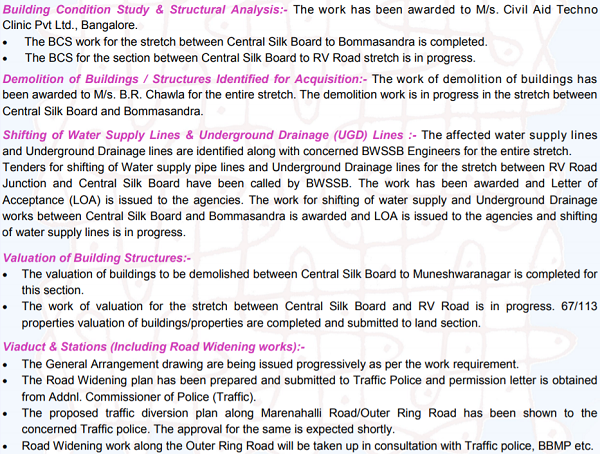 For more updates, check out the Bangalore section of The Metro Rail Guy!
– TMRG