Engineers and workers from the CEC-ITD Cem-TPL JV on this Sunday commissioned S-1074 – their second of three Herrenknecht tunnel boring machines at the Nayanagar Shaft in Mumbai's Mahim neighborhood. After TBMs S-1073 & T-58, this is the third of 17 TBMs to be commissioned for building Mumbai Metro's new 33.5 km Line-3 tunnels.
This Ø6.61m earth pressure balance TBM successfully passed factory acceptance testing (FAT) in mid-August 2017, arrived at the city's port in early October and was lowered into the shaft for assembly towards the beginning of November.
As per the tunneling plan, S-1074's assignment includes two drives as part of the 6.081 km package UGC-04 between Worli-Dharavi. First it'll build the 2484m long down-line tunnel towards Dadar Station through Shitladevi Station, and then it is planned to be brought back to the Nayanagar Shaft for its final 578m drive towards Dharavi Station for the up-line tunnel.
The first tunnel ring segment for the entire package was cast in March – see images here.
Within the shaft, the TBM will first erect 9 temporary rings before its cutterhead starts boring and permanent ring building activity begins. As of Monday morning, 3 of those temporary rings have been erected, and an official inauguration ceremony is planned to take place this afternoon.
Some images –
Images from Sunday (December 3) –
As of November 30, TBM S-1073 on the parallel up-line tunnel had completed building 15 rings (9 temporary & 6 permanent = 21m) towards Dadar. See some images I posted on Twitter here.
December 4 evening update – Here are some images from the "official" launch event held in the presence of MMRCL's MD this afternoon –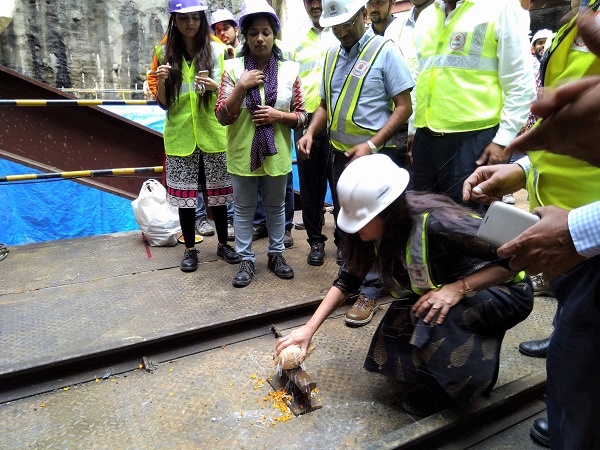 For more updates, check out the Mumbai section of The Metro Rail Guy!
– TMRG