On February 7, engineers from the Delhi Metro Rail Corporation began trial runs (testing) on a 10.47 km elevated section of the 58.596 km Pink Line (Line-7) between I.P. Extension and Maujpur stations in East Delhi.
DMRC's engineers manually ran a 3.2 m wide Hyundai Rotem train at a speed of 5 kmph out of the Vinod Nagar Depot and primarily observed its interaction with the civil structure to ensure there are no physical obstructions along the way. In the coming days, various subsystems like the new signalling solution provided by Bombardier Transportation (CITYFLO 650) will be tested rigorously and the train's response to being operated at different speeds and braking will be monitored along with the behavior of the track system and Over Head Electrification (OHE) system.
This elevated section of the 162 km Phase 3 project was built by ITD-ITD Cem (CC-26R) and JMC-CHEC (CC-12), and consists of  9 stations – 3 of which become interchanges when this stretch opens. This includes I.P. Extension, Anand Vihar, Karkardooma, Karkardooma Court, Krishna Nagar, East Azad Nagar, Welcome, Jaffrabad and Maujpur Station –
Note that the Maujpur Station has been built with 4 platforms – all for the Pink Line, with 2 of them catering to the future 12.54 km Maujpur – Mukundpur stretch of the line which'll built in the Phase 4 project.
DMRC's press release lists out the 10 curves on the line and their radius of curvature –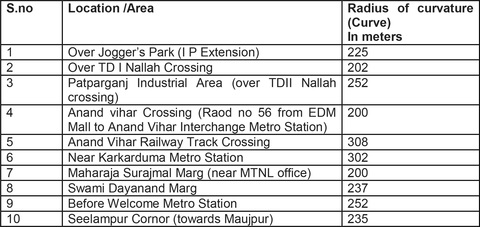 Besides that, this section includes two steel spans over Red Line (at Welcome) and over the Northern Railways' track between Welcome & Shahdara. The section over the railways' track at Anand Vihar was built using the cantilever construction method with a total length of 255m.
More images will be added here when available.
With this development, the start of testing is now pending between Durgabai Deshmukh South Campus – IP Extn (approx 22.75 km) and Maujpur – Shiv Vihar (approx 3.9 km) sections. Trains have been spotted entering and exiting Moti Bagh Station, but I haven't seen or read reports of them going beyond.
For more updates, check out the Delhi section of The Metro Rail Guy!
– TMRG