So last month, Chennai Metro Rail Ltd. (CMRL) published nine separate notices inviting bids from companies for the appointment of detailed design consultants (DDC) and geotechical engineering firms as part of the pre-construction activities for developing a 50 km portion of Chennai Metro's new Line-3 and Line-5 under the 108 km Phase 2 project.
Within one of those notices, CMRL has published an official map of the project – the first to ever be released by the organization – which will comprise of 3 new lines with 104 stations:
Update: New updated 2020 map can be viewed here.
Here's a list of all proposed stations. Note that these 3 lines provide interchange connectivity with not just one another but also with the 54 km Phase-1's Line-1 (Airport – Wimco Nagar) & Line-2 (St. Thomas Mount – Central), something which will be unique to Chennai if these get built as-is.
• Line-3 (shown in Green) Madhavaram – SIPCOT (45.81 km) with 50 stations at Madhavaram Milk Colony (interchange with Line-5), Thapal Petti, Murari Hospitial, Moolakadai, Sembiyam, Perambur Market, Perambus Metro, Ayanavaram, Otteri, Pattalam, Perambur Barracks Road, Purasaiwakkam High Road, Kelley's, KMC (interchange with Line-2), Chetpet Metro, Sterling Road Junction, Nungambakkam, Gemini, Thousand Lights (interchange with Line-1), Royapettah Govt Hospital, Radhakrishnan Salai Junction, Thirumayilai Metro (interchange with Line-4), Madaiveli, Greenways Road Metro, Adyar Junction, Adyar Depot, Indira Nagar, Thiruvanmiyur, Taramani Link Road, Nehru Nagar, Kandhanchavadi, Perungudi, Thoralpakkam, Mettukuppam, PTC Colony, Okkiyampet, Karapakkam, Okkiyam Thoralpakkam, Sholinganallur (interchange with Line-5), Sholinganallur Lake, Sri Ponniamman Temple, Sathyabama University, St Joseph College, Seemancheri, Gandhi Nagar, Nayalur, Siruseri, Sipcot 1 and Sipcot 2.
• Line-4 (shown in Navy Blue) – CMBT – Lighthouse (17.12 km) with 20 stations at Light House, Forehore Estate Road, Kutchery Road, Thirumayilai Metro (interchange with Line-3), Alwarpet, Bhararthidasan Road, Adyar Gate Junction, Nandanam (interchange with Line-1), Natesan Park, Panagal Park, Kodambakkam Metro, Meenakshi College, Power House, Vadapalani, Avichi School, Elango Nagar, Sai Nagar, Grain Market and CMBT (interchange with Line-2 and Line-5).
Note – A supplementary DPR for a 15 km extension of Line-4 to Poonamallee is currently being prepared, which will increase Phase 2's route length to 123 km.
• Line-5 (shown in Red) –  Madhavaram – Sholinganallur (44.66 km) with 46 stations at Madhavaram Milk Colony (interchange with Line-3), Venugopal Nagar, Assissi Nagar, Manjambakkam, Velmurugan Nagar, MMBT, Shastri Nagar, Terreri, Kolathur, Srinivasa Nagar, Villivakkam Metro, Villivakkam Bus Terminus, Nadhamuni, Anna Nagar Depot, Thirumangalam, Kendriya Vidyalaya Anna Nagar, Kallamman Koli Street, CMBT (interchange with Line-2, Line-4), Kannlamman Nagar, Nerkundram, Madhuravoyal, Ganga Nagar, Valasaravakkam, Alwarthirunagar, Suresh Nagar, Ramapuram, Sathya Nagar, Chennai Trade Centre, Butt Road, Alandur (interchange with Line-1 and Line-2), St Thomas Mount (interchange with Line-2), Adambakkam MRTS, Vanuvampet, Puzhuthivakkam, Madipakkam Koot Road, Kilkattalai, Echangadu, Kovilabakkam, Vellakkal, Medavakkam Koot Road, Medavakkam Junction, Perumbakkam, Global Hospitals, Elcot and Sholinganallur (interchange with Line-3).
Station Information
Also within the three DDC notices are the following tables which list out the approximate distance between each station, type (elevated versus underground) and their basic layout (island versus side platforms). Each and every figure can possibly change by the time detailed designs are prepared and civil construction bids are invited, but these can be taken as a good benchmark.
Note – the scope of the tender notices were restricted to an approximately 50 km portion of Line-3 and Line-5 covering 60 stations, so data is missing for the rest 44 stations spread across all 3 new lines.
Line-3 Station Info
• Underground: Mahavaram Milk Colony – Taramani Road Junction (approx. 25.718 km)
• Elevated – Taramani Road Junction – Sholinganallur Lake (approx. 10.571 km)
Line-5 Station Info
• Underground/At-Grade: Madhavaram Milk Colony – Venugopal Nagar (approx .87 km)
• Elevated: Venugopal Nagar – Shastri Nagar (approx 5.276 km)
• Underground: Shastri Nagar – CMBT (approx 10.039 km)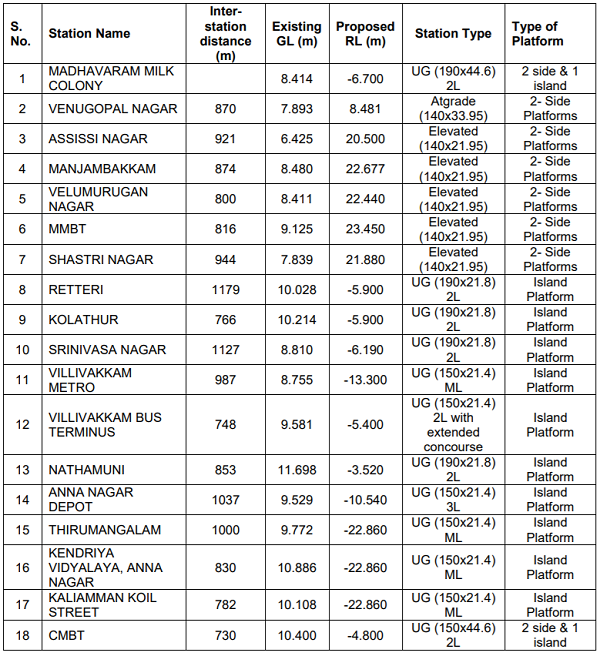 All elevated stations have been designed to be 140 meters long, and as such can accommodate a max of 6-coach trains. CMRL might be attempting to follow DMRC's Phase 3 strategy of saving money by reducing station footprint and will make up for it by operating trains at a high frequency to maintain roughly the same passengers per hour per direction (pphpd) capacity as a system with 8-coach trains.
Phase 2's Current Status
As stated earlier, Phase 2 has been estimated to cost Rs. 85,000 crore and its detailed project report (DPR) is currently being revised to conform with the new Metro Rail Policy of 2017 after which it'll be placed before the central government's cabinet for approval. RITES submitted their environmental impact assessment (EIA) report to the Japan International Cooperation Agency (JICA) in November 2017, but there's still no clarity on whether they will provide another loan or not.
For more updates, check out the Chennai section of The Metro Rail Guy!
– TMRG
Hat tip to Abdul Razik