Update: HCC-VCCL JV received DMRC's Letter of Acceptance (LOA) on January 6, 2020.
Original Post:
HCC-VCCL JV today emerged as the lowest bidder for constructing a 2.03 km underground extension of the Delhi Metro's 38.235 km Magenta Line (Line-8) from the Vikaspuri Park Shaft to the Vikaspuri Ramp, after officials from the Delhi Metro Rail Corporation opened financial bids submitted by different infrastructure firms.
DMRC invited bids for this extension's civil construction under package DC-06 in October 2019 as part of the line's 28.92 km Janakpuri West – R.K Ashram extension in Phase 4. DMRC estimated it to cost Rs 478.12 crores and HCC-VCCL JV put in the lowest bid at Rs. 489 crores.
Here are the financial bid values submitted by all bidders –
| | |
| --- | --- |
| Firm | Bid |
| HCC | Rs. 489 cr |
| Tata Projects | Rs. 495 cr |
| Afcons Infra | Rs. 643.50 cr |
| STEC – SUCG IN JV | Disqualified |
STEC – SUCG IN JV's financial bid was not opened as their technical bid was found to be non-compliant to the bidding requirements.
Besides building twin tunnels from the Vikaspuri Park Shaft (co-incidentally built by HCC in a JV with Samsung in Phase 3's package CC-34 north of Janakpuri West Station) to the Vikaspuri Ramp, this section's scope also includes one underground station at Krishna Park Extension. DMRC would like work to be completed within 36 months with the use of 1 tunnel boring machine.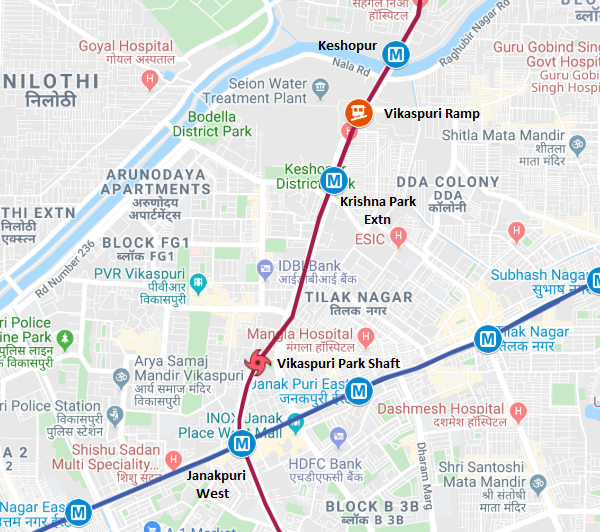 If no issues arise, then in the coming days the DMRC will go on to award HCC – VCCL JV with the 61.679 km (and growing) Phase IV project's first underground and overall fourth major civil construction contract.
DC-01 – Awarded to CCECC-KEC JV for Line-8 (Magenta)'s 12.375 km Vikaspuri Ramp – North Pitampura elevated section with 10 stations.
DC-02 – Awarded to Longjian – KEC JV for Line-7 (Pink)'s 12.375 km elevated viaduct from Maujpur to Majlis Park with a bridge over Yamuna River, PWD double-decker flyover and 8 stations.
DC-04 – Awarded to YFC Projects for the Aerocity – Tughlakabad line's 4.28 km Sangam Vihar – Saket Sector G section which includes a double-decker flyover, 2 underpasses and 4 elevated stations.
For more updates, check out the Delhi section of The Metro Rail Guy!
– TMRG