Bangalore Metro Rail Corporation Ltd. (BMRCL) in the past week awarded two contracts to appoint Detailed Design Consultants (DDCs) for its 57 km Line-5 (Blue Line) which will connect Silkboard to KR Puram in the 18.23 km Phase 2A, and onward to connect Hebbal, Yelahanka & Kempegowda International Airport (KIAL) in the 38.8 km Phase 2B.
Contract BMRCL/Phase-2A&2B/DDC/Sec-1/Via &Stn/CSB to HBR/2019/56 – awarded to SMEC International Pty. Ltd on February 7 with a contract value of Rs. 8.30 crores. The scope of work includes the section from Central Silk Board Junction to HBR Layout along Outer Ring Road (Section-1). Note – Besides Line-5's route in Phase 2A, this contract covers a roughly 7 km portion of Phase 2B's route from KR Puram to HBR Layout.
BMRCL/Phase-2A&2B/DDC/Sec-2/Via &Stn/HBR to KIA/2019/57 – awarded to consortium of AECOM India Pvt.Ltd and Consulting Engineers group Ltd JV on February 12 with a contract value of Rs. 6.26 crores. The scope of work includes the section from HBR Layout to Kempegowda International Airport (Section-2)
BMRCL invited proposal bids for both DDC packages in October 2019. Each appointed firm's role includes, but is not limited to, producing and proposing alternate designs of all architectural, building services, electrical and mechanical works for the viaduct and 30 stations (excluding U-girder system of the superstructure).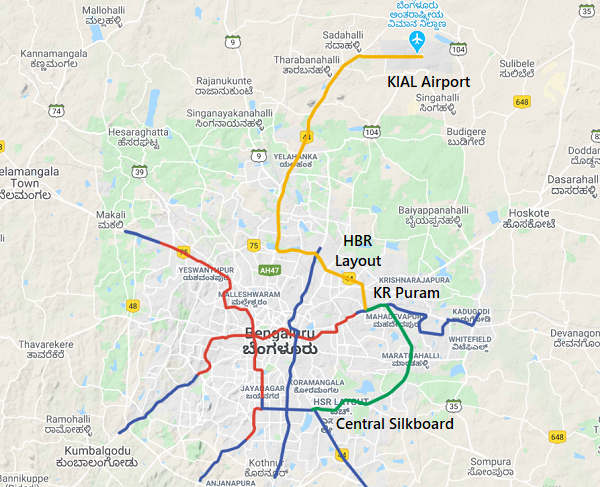 In December 2019, BMRCL re-invited bids for the civil construction of Phase 2A's 18.236 km Silkboard – KR Puram viaduct and 13 stations. Its bid submission deadline of February 24 is just around the corner.
For more updates, check out the Bangalore section of The Metro Rail Guy!
– TMRG