Bangalore Metro Rail Corporation Ltd. (BMRCL) on January 31 awarded STUP Consultants Pvt.Ltd with a Rs. 4.47 crore contract to appoint them as the Detailed Design Consultants (DDC) for the 73.92 km Phase 2 project's Challaghatta Depot and Inter Modal Integration Hub (IMIH).
BMRCL invited bids for this package in September 2019. STUP's role would typically include, but is not limited to, producing and proposing alternate designs of all architectural, building services, electrical and mechanical works for the depot's structures, such as the stabling yard, DCC & administrative building, maintenance & workshop buildings, and a multi-level parking structure.
The depot and transport hub are planned to be built across 40 acres of land abutting Mysore Road, and in the coming years will become important in running smooth operations on the Purple Line, along with the Kadugodi Depot, when the existing Baiyappanahalli Depot gets re-purposed to serve the 57 km Line-5 connecting Silkboard – KR Puram – Kempegowda International Airport.
BMRCL received stiff resistance from the Bangalore Development Authority (BDA) to acquire its land, and in October 2019 finally arrived at a compromise, with another 6 acres pending to be acquired. This 6 acre figure could very well be the 2 government land-parcels identified in BMRCL's January newsletter that still need to be acquired out of a total of 32 properties.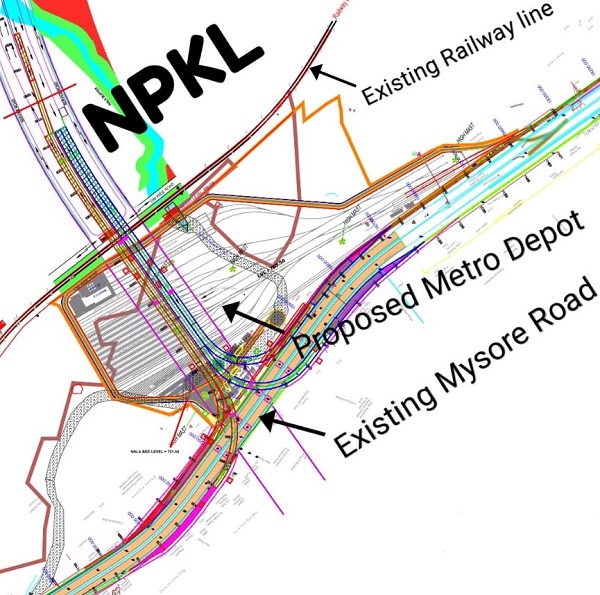 Six integrated transport hubs are planned across the city, and one of them will be built on the north-east corner of the depot's land, allowing passengers from intercity buses easy access to the Challeghata Station on the southern-end of the line's Reach 2B section.
An 8 lane 100 feet wide tunnel road is planned to be built under the depot's land and the adjacent Indian Railways line. If built, this would make it the second such metro depot in India after Delhi's new Badli (Siraspur) Depot on the Yellow Line which has a local 2 lane underpass cutting right underneath it.
For more updates, check out the Bangalore section of The Metro Rail Guy!
– TMRG