The Bangalore Metro Rail Corporation Ltd. just made the Detailed Project Report (DPR) for the upcoming Silk Board – KR Puram line available on their website. The DPR was prepared by BMRCL's in-house team within a month's timeframe and provides the entire project plan, traffic forecast, financial viability and risk mitigation plan for issues during its execution. Check it out here and if you have any suggestions, then forward them along to [email protected] by November 30 2016.
Part of Phase 2A, the BMRCL officially refers to this line as Line-7 and has not yet assigned a color to it. That type of decision is usually taken during the project's implementation.
Here are some interesting data points:
• Estimated Cost: Rs. 4202 Crores  (July 2016 prices)
• Length: 17 km – this is the commercial route length only. Viaduct's length connecting to the depot will make it longer.
• Type: Elevated – Viaduct will be built on the Outer Ring Road's median & requires no land acquisition.
• Stations: 13 at KR Puram (interchange with upcoming Purple Line), Mahadevpura, DRDO Sports Complex, Doddanakundi, ISRO, Marathahalli, Kodibisanahalli, Kadubeesanahalli, Bellandur, Ibbalur, Agara Lake, HSR Layout, Silk Board (interchange with upcoming RV Road – Bommasandra line).
Note that Kodibisanahalli has been mentioned twice. One of them is likely to be renamed.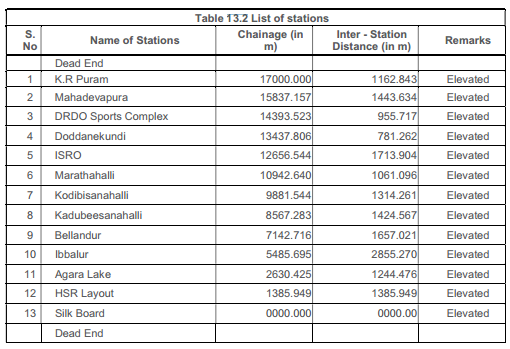 • Depot: The trains will be stabled and & maintained at the existing Baiyappanahalli  Depot. Some of the Purple Line's existing stabling lines will be re-purposed for this line and due to that, a new depot for the Purple Line has been proposed at Kodugodi near Hope Farm Junction (view suggested layout) where government land is available. At a later stage, the Baiyappanahalli  Depot will exclusively be used by this new line's trains while the Purple Line's trains will be stabled & maintained at Kodugodi and the upcoming Challaghatta Depot.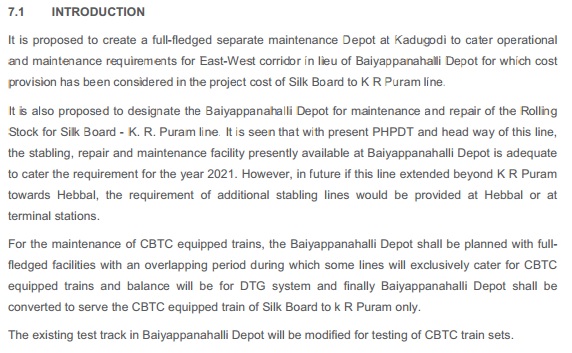 • Land Acquisition: The BMRCL requires a total of 15179 sq meters of which 9268 sq meters is private land and the rest 5911 sq meters is government land.
• Construction Methodology: Elevated viaduct consisting of pre-stressed concrete box/U-shaped girders on single pier/portal with pile/open foundation. The viaduct will look sleek & similar to the ones in Noida, Lucknow & Kochi.
• Signalling: Communication Based Train Control (CBTC) with Automatic Train Protection (ATP) and Automatic Train Operation (ATO) sub-systems. This will allow for high train frequencies, and the DPR proposes a headway of 2.5 minutes to be implemented in the future.
• Rolling Stock: BMRCL plans to initially procure 20 6-coach trains and operate them in a DMC-TC-MC+MC-TC-DMC formation from the get-go. This means 3-coach trains like currently on the Purple/Green lines will never be operated for commercial services. Since the Baiyappanahalli Depot will be utilized for maintenance, the rolling stock's dimensions will be similar to those on the Purple & Green lines. Max train capacity is estimated at 1574 assuming 6 people/square meter. Along with a 4 minute frequency, that translates to a system capacity of 37,776 PHPDT (Peak Hour Peak Direction Traffic).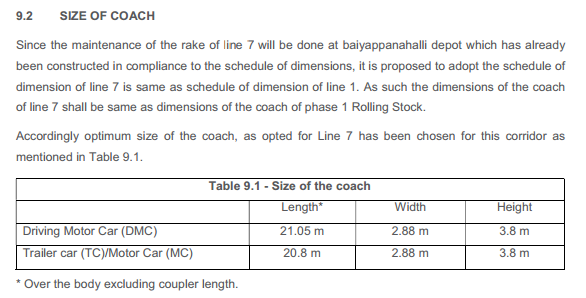 • Traffic Forecast (Estimated Ridership):
The following figures were arrived through different modeling techniques. A more detailed table for 2020 can viewed on page 3-25. Worth a look but pretty inconsequential as the line will not be operational by then.

2021: 3.52 Lakhs/Day
2031: 4.59 Lakhs/Day
2041: 5.75 Lakhs/Day
• Funding Scenarios:
This is the most important part of the project that will influence when the project's construction starts. Earlier it appeared that the BMRCL's innovative financing techniques, touted by them as the hall-mark of the project, would finance a bulk of it, but looking at the funding options proposed (not exhaustive or set on stone), the BMRCL expects to borrow a similar or significant amount to fund it: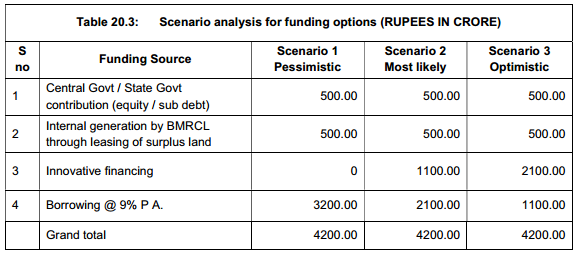 • Future Extension: The line is proposed to be extended to Hebbal via Nagawara which is the most logical next step. Similar to this in Gurgaon, I believe the superstructure of the viaduct between the Baiyappanahalli Depot & KR Puram Station will likely include a physical provision for its extension.
For more detailed info, do check out the DPR.
My Thoughts:
There are lots of positive take-aways from the DPR, like the decision to use of CBTC signalling and U-shaped girders for construction. That said, project funding is the most important component in all construction projects and at this time, no funds towards its execution have been (publically) tied up or promised by any government, lending agency or private company. Land acquisition is tricky, never easy and even more so in Bangalore because it's not BMRCL's forte as currently being witnessed in Phase 2's execution where land notifications for many sections have not even been prepared or sent out.
After the BMRCL encorporates everyone's suggestions, the DPR will be presented to the state government's cabinet. Whenever they approve, the exact funding split/outlay will be known, and the BMRCL will then take steps to appoint a detailed design consultant (DDC) to assist with the line's design. Overall, the government's enthusiasm is very encouraging and with many pre-construction tasks still pending,  I expect construction work to begin in 2018-2019.
For more updates, check out the Bangalore section of The Metro Rail Guy!
– TMRG