This news is dated, but I'd like to put it out here for the record, especially since MMRDA has now extended crucial bidding dates.
The Mumbai Metropolitan Region Development Authority on December 20, 2019 invited bids for procuring 234 metro coaches, under package MRS2, for running commercial services on Mumbai Metro's under construction 35.2 km Line-4 & 4A (Green Line) which'll connect Wadala – Vikhroli – Thane – Kasarawadavali – Gaimukh.
MMRDA and the Government of Maharashtra are in talks with German state-owned development bank KfW for an official development assistance (ODA) loan of €525 million to finance the line's systems' procurement, and this notice is a good indicator that an agreement has been reached, with an official signing ceremony just months away.
Contract CA-71 / MRS2 – DESIGN, MANUFACTURE, SUPPLY, TESTING AND COMMISSIONING OF 234 Nos. STANDARD GAUGE CARS INCLUDING TRAINING OF LINE 4 AND EXTENSION CORRIDOR [WADALA – KASARVADAVALI -GAIMUKH] OF MUMBAI METRO RAIL PROJECT OF MMRDA
• Completion Period: 144 weeks (33 months)
• Estimated Value: Rs. 1865 crores
On February 17, 2020 – MMRDA issued a corrigendum extending crucial bidding dates either due to a lack of interest from bidders (highly unlikely) or due to bidders requesting for additional time in the pre-bid meeting to finalize their bids due to information lacking in the bidding documents. Here are the old and new dates:
• Last date to submit bids: February 25, 2020 April 8, 2020
• Opening of tender docs: February 26, 2020 April 9, 2020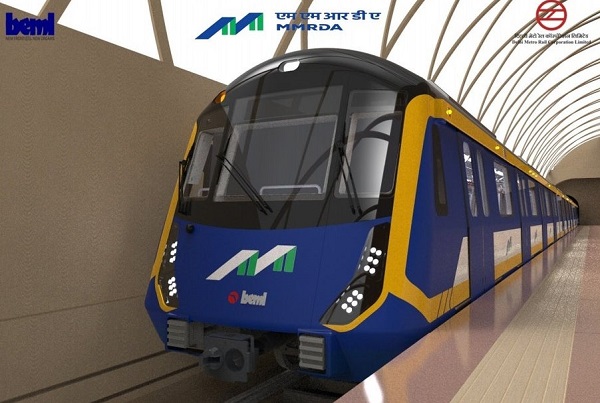 The notice does not divulge any technical details (since it's essentially just a notice), but if MMRDA's contract MRS1 for 378 + 126 coaches on Line-2 & Line-7 (won by BEML in November 2018) is anything to go by – then MMRDA is looking to procure 39 6-coach trains to run on its 2.9m standard gauge tracks, with each coach being 3.2m wide & 21.84 m long.
There has been some confusion over the line's maintenance depot's location – whether it'll be built at Owale, Mogharpada or "near Gaimukh Station" as the DPR for Line-4A suggests – all in the northern section of the line along Ghodbunder Road. Per MMRDA's tweet on February 11, it'll come up at Mogharpada, and acquisition of land for it is currently being met with stiff opposition by local farmers threatening to commit mass-suicide.
For more updates, check out the Mumbai section of The Metro Rail Guy!
– TMRG