After a small puja at Esplanade Station's construction site, workers from Herrenknecht and ITD – ITD Cementation JV on February 18 resumed tunneling works under tight supervision on Kolkata Metro's 16.34 km Line-2 with Tunnel Boring Machine S616, nicknamed Urvi, for the final 2.45 km pair of tunnels between Esplanade and Sealdah stations.
Tunneling works on UG Package-2 by two Ø6.65m Herrenknecht earth pressure balance (EPB) machines came to an abrupt halt on August 31, 2019 when TBM S615, nicknamed Chandi or Chundee, hit an aquifer leading to heavy soil displacement in the Bowbazar area. This triggered the collapse of several residential buildings over a month's period. Several other buildings developed cracks and more than 600 people had to be evacuated to raze the structures.
Last week, the Kolkata High Court allowed Kolkata Metro Rail Corporation (KMRC) to resume tunneling under strict supervision after accepting a report from IIT-Madras.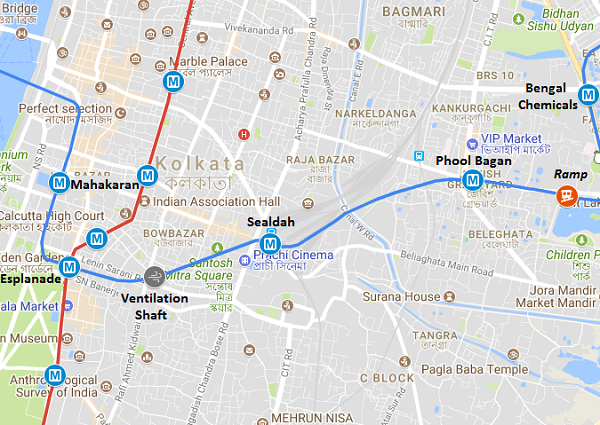 TBM Chandi commenced its journey from Esplanade on January 25, 2019 for building the west-bound down-line tunnel, and TBM Urvi started its journey on February 15 for the east-bound up-line tunnel – both roughly 2.45 km long. The tunnels between the Subhash Sarovar Ramp – Phoolbagan Station – Sealdah were completed by ITD – ITD Cementation in 2013. A realignment of the line in central Kolkata forced the firm to halt further tunneling for over 5 years during which both TBMs were retrieved, sent to work on Delhi Metro's Magenta Line tunnels, and then brought back to Kolkata to get refurbished.
TBM Chandi's role in Kolkata is now over; a new mid-shaft will be constructed to lift it out. Per the new tunneling plan, Urvi – which was halted below Nirmal Chunder Street roughly 400m behind Chandi, will continue tunneling towards eastward (it has another 1 km to go), pass by Chandi to make a breakthrough at Sealdah Station, and then tunnel back westward to the mid-shaft to complete the pending tunnel of the up-line tunnel.
Now, here's something interesting. Giving TBMs female names is a long-standing tradition dating back to the 1500s in the mining/tunneling world to bring good luck to the project team. In this case, TBM Chandi was named after Chundee Mookhan, a Thai male engineer and stellar performer who quit his job at ITD – ITD Cem JV in 2013 to become a Buddhist monk. Now, I'm not suggesting there's a direct correlation, but why would anyone deviate from tradition?
For more updates, check out the Kolkata section of The Metro Rail Guy!
– TMRG