As per a report in the Mid-Day, Royal Palms Estate – a private residential development in Goregaon East is the preferred choice of top politicians in the incumbent state government for hosting Mumbai Metro's 33.5 km Line-3 (Aqua Line)'s depot after environmental activists opposed its construction from taking place at its originally planned location in Aarey Colony.
Per the report, if the government decides to construct the maintenance depot (car shed) at Royal Palms, then the property's promoter might be given transferable development rights (TDR) – a method that redirects development to alternate sites that would otherwise could have occurred on the land.
Back in December 2019, the Maharashtra government formed a four-man committee, headed by Additional Chief Secretary (Finance) Manoj Saunik, to explore alternative locations to move the depot due to its location, but the panel found no viable alternate and in fact recommended to lift the stay on construction work. Unhappy with this, the government gave a month's extension to find alternate sites and the Mid-Day reports that besides Royal Palms, the committee suggested an alternate site in "Vyarali village", apparently also in the vicinity of Aarey.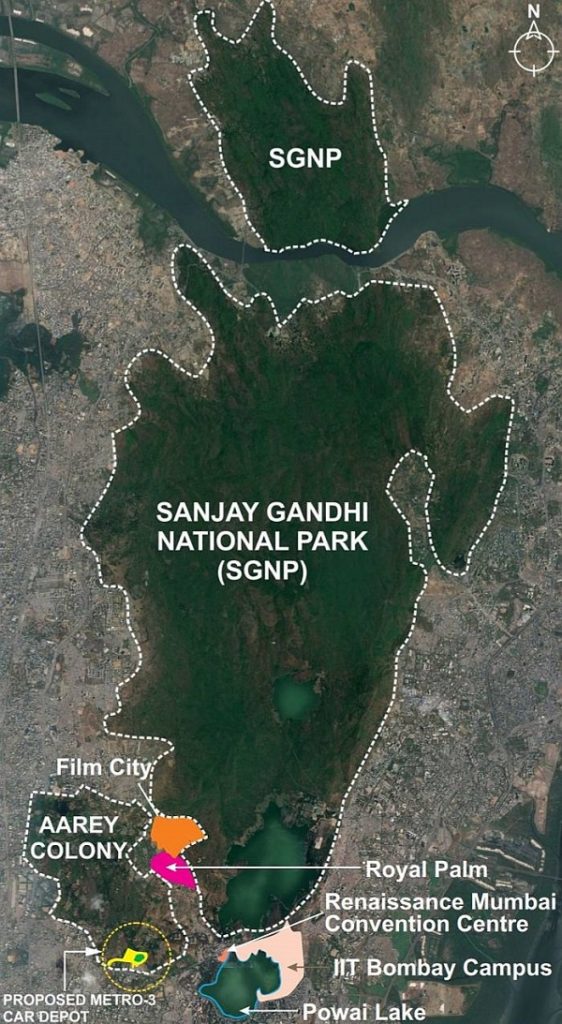 Tunneling works by L&T-STEC JV from the Ramp Shaft at Aarey Colony to SEEPZ Station, under Package UCG-07, were completed in December 2018 for the 566m down-line tunnel and in August 2019 for the 571m up-line tunnel – view line map here. Towards the end of 2019, Larsen & Toubro won the line's final track order, part of which includes laying tracks inside the depot – a clear indication from the MMRCL that it wants to go ahead with the original Aarey Colony location.
Now, take a look at the map above. Royal Palms, Film City and other assorted developments were all built by encroaching on Sanjay Gandhi National Park's land. If the government forces Mumbai Metro Rail Corporation (MMRC) to move the depot's location and the nimby activists accept it, then the intent of their protests to stall development will be pretty clear and the irony will be lost on them.
This move and the TDR incentive might also open another can of worms and make a different set of activists file public interest litigations alleging the private developer receiving undue advantage and profits at the cost of public expense. Whether all of this happens or not, we shall soon find out. A decision needs to be made soon to bring some semblance back to the project's budget and timelines.
For more updates, check out the Mumbai section of The Metro Rail Guy!
– TMRG