The Mumbai Metropolitan Region Development Authority (MMRDA) on Friday released a 'Brand Vision and Style Guidelines' document to set design guidelines and assign official line colors to the city's metro lines and their extensions which are in different stages of execution.
This super-exciting development to establish a unique brand identity for Mumbai's 337 km future metro network was prepared with assistance from Systra MVA Consulting who was assigned as the consultant in October 2019.
During the media event, the 42.2 km Line-2 (A+B) was officially unveiled as the Yellow Line and the 31 km Line-7 (7+7A+9) as the Red Line.
That was the key highlight of the event, but what really caught my attention was the MMRDA's subsequent press release, shared with me by noted author & journalist Rajendra B. Aklekar, which consisted of the following network map highlighting all of Mumbai's metro lines and their extensions. Oddly enough the under construction 11.38 km Line-9 (Dahisar – Mira Bhayandar) is missing.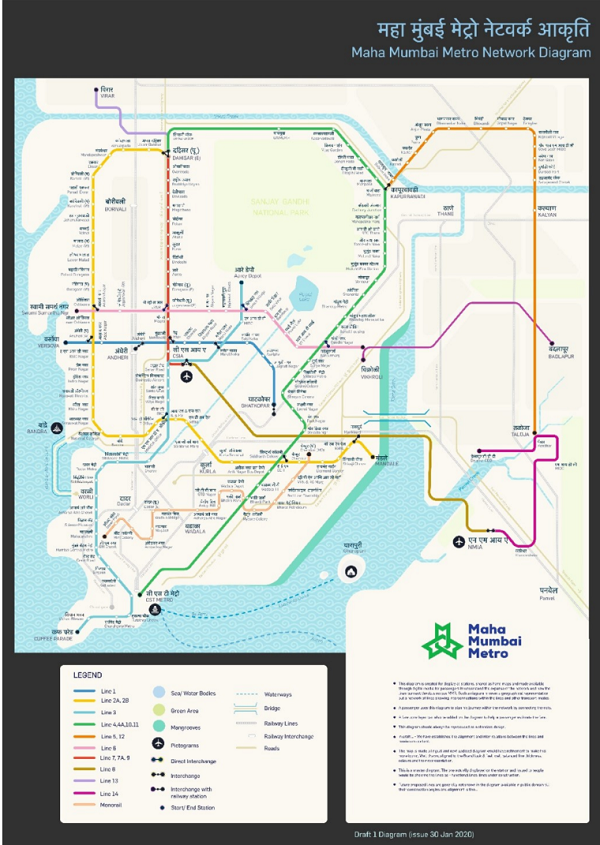 Until now, the only line with an official color was the 33.5 km Line-3 (Cuffe Parade – Aarey Colony) – that's the Aqua Line. The 11.4 km Line-1 (Versova – Ghatkopar) never had an official line color announced, and it's been relegated to blue color – the color utilized by Mumbai Metro One Pvt Ltd. , within their stations and trains, in which the MMRDA has a 26% minor stake.
The map is super grainy (that was the highest resolution available), but here's the best I can make of it. Drop a comment below if you believe I need glasses 🙂
Blue Line is Line-1: Versova – Ghatkopar (11.4 km)
Yellow Line is Line-2A + Line-2B
• Line-2A: Dahisar (East) – D.N. Nagar (18.6 km)
• Line-2B: D.N. Nagar – Mandale (23.6 km)
Aqua Line is Line-3: Cuffe Parade – BKC – Aarey Colony (33.5 km)
Green Line is Line-4 + Line-4A + Line-10 + Line-11
• Line-4: Bhakti Park (Wadala) – Kasarvadavali (32.32 km)
• Line-4A: Kasarvadavali – Gaimukh (2.88 km)
• Line-10: Gaimukh – Shivaji Chowk (9.2 km)
• Line-11: Wadala – Chhattrapati Shivaji Maharaj Terminus (12.7 km)
Orange Line is Line-5 + Line-12
• Line-5: Thane – Bhiwandi – Kalyan (23.50 km)
• Line-12: Kalyan – Taloja (20.7 km)
Pink Line is Line-6: Lokhandwala – Jogeshwari – Kanjurmarg (14.47 km)
Red Line is Line-7 + Line-7A + Line-9
• Line-7: Dahisar (E) – Andheri (E) (16.5 km)
• Line-7A: Andheri (E) – CSI Airport (3.17 km)
• Line-9: Dahisar (E) – Mira Bhayander (11.38 km)
Gold Line is Line-8: Chhatrapati Shivaji International Airport (CSIA) – Navi Mumbai International Airport (NMIA) (35 km)
Purple Line is Line-13: Shivaji Chowk (Mira Road) – Virar (23 km)
Magenta Line is Line-14: Vikhroli – Kanjurmarg – Badlapur (45 km)
With this, I've now cleaned up and updated the Mumbai Metro Information Page and all the maps within it.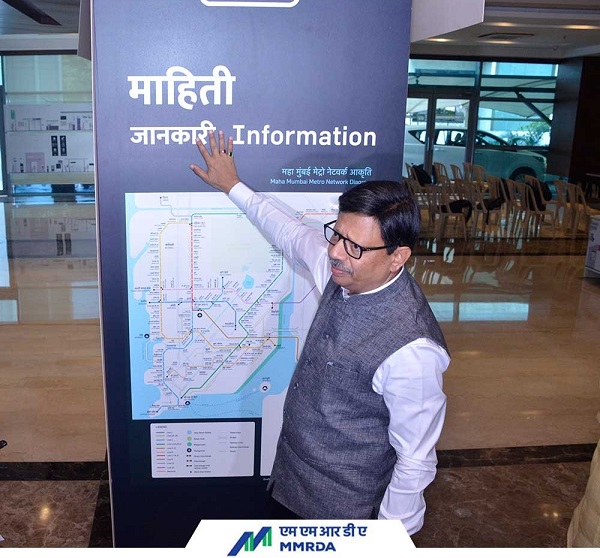 Besides the colors, the MMRDA also unveiled its vision, mission and values for Mumbai's metro network:
Vision: "To connect places within MMR and provide people with most delightful commuting experience."

Mission: "To provide a seamless, safe, comfortable, faster and most modern mode of commute."

Values: "Excellence, Equality, Inclusiveness, Commuter Centricity"
Here's a look at some of signage branding which utilizes line colours and a dark background to enhance the visibility of information for riders.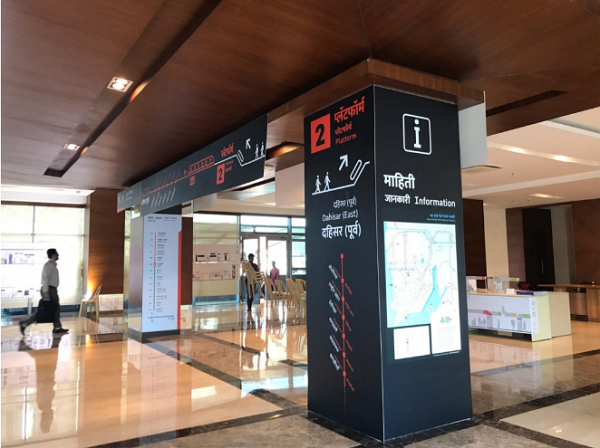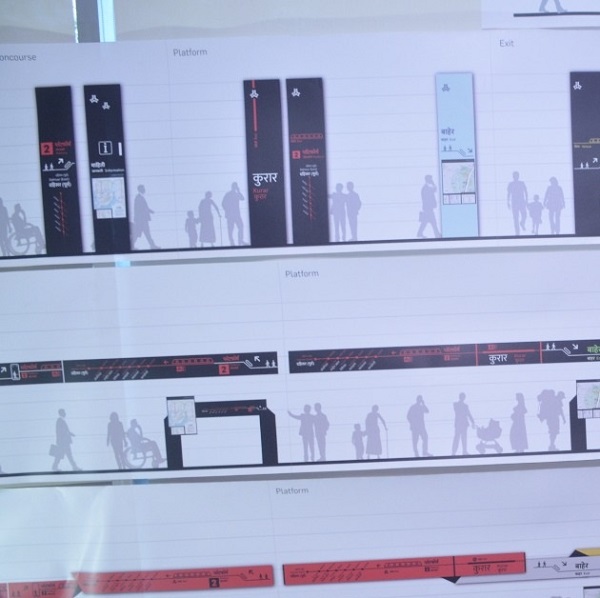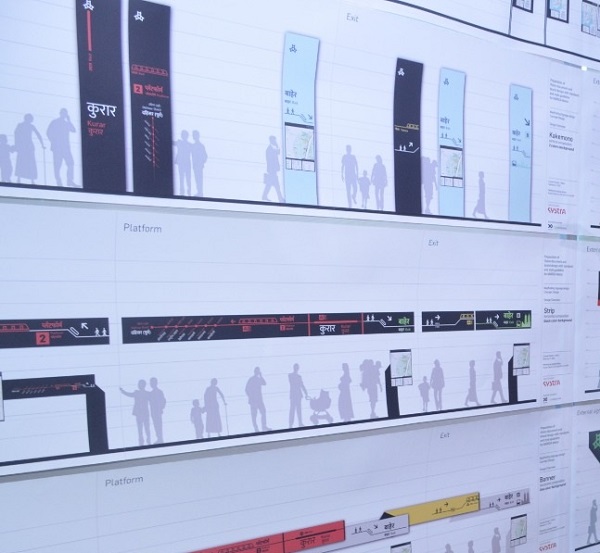 And finally here's a snippet on the system's integrated ticketing and M-Cube travel card the MMRDA plans to introduce –
MMRDA has taken an initiative towards creating a seamless travel experience using an integrated ticketing system. The initiation of this is being done through the design of a M-Cube Metro travel card which represents an accessible, comfortable a reliable mode of transport across MMR region. The card resonates the need of the people to travel in speed and aspirations of a big city to be green, fast and safe. The card design reflects the ethos and culture of the city.
For more updates, check out the Mumbai section of the Metro Rail Guy!
– TMRG