Following the approval by the Central Railways, workers from Afcons Infrastructure in February-end began piling work at Gaddigodam for a 4.375 km multi-level viaduct on Nagpur Metro's 22.293 km Orange Line.
This Rs. 573 crore section is a part of the Phase 1 project's 7.144 km Reach-2 which stretches from Sitabuldi Interchange Station to Automotive Square Station primarily on Kamptee Road. The railway underbridge (RuB) already exists onsite and is locally known as the Gurdwara Bridge.
Maharashtra Metro Rail Corporation Limited (MAHA-METRO) announced the start of work on February 28 via Facebook –
• Work on Maha Metro's Gaddigodam Multi-Layer Transport System Begins
• Once Completed, Project Will Help Decongest Kamptee Road

Work on one of the most ambitious segment of Maha Metro project – which involves construction of Flyover and Metro route over existing the existing road and railway line at Kamptee Road – has been started by Maha Metro. The structure one of its own kind, will create four layer transportation mechanism at Gaddigodam, Kamptee Road. Central Railway (CR) recently gave permission to start work over Railway Land at Gaddigodam. Piling work has accordingly been started. The proposed double decker structure crosses Railway Line at Gaddigodam near Gurudwara on Kamptee Road.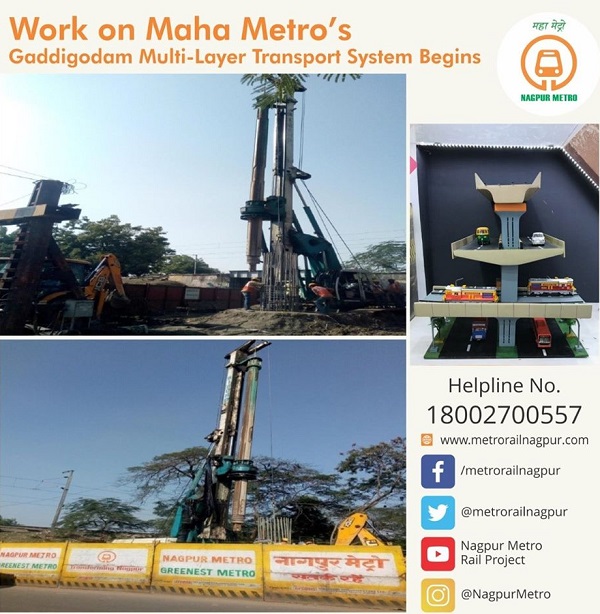 Afcons Infrastructure emerged as the lowest bidder for Reach 2 in November 2017, but couldn't begin work here due to pending approvals from the National Highways Authority of India (NHAI), which finally came through in November 2019.
Afcons' scope of work includes building the 4.375 km double-decker viaduct and its approach ramps which will be 2.947 km (CH:673.910 to 3620.950) and 80m (3962.558 to 4042.558) long. The structure will start from St. Francis De Sales Cathedral (near Gaddigodam Station) and end at Automative Square, with stations at Kadvi Square, Indora Square, Nari Road and Automotive Square.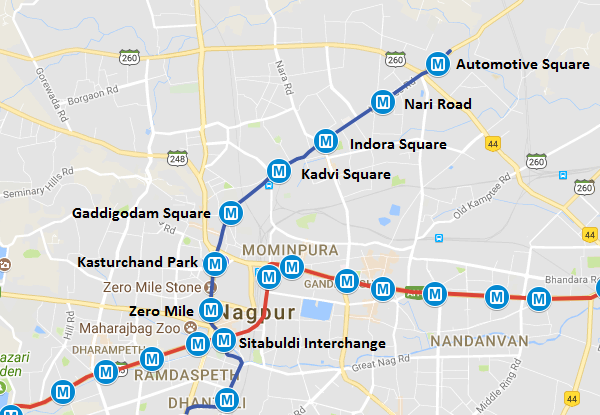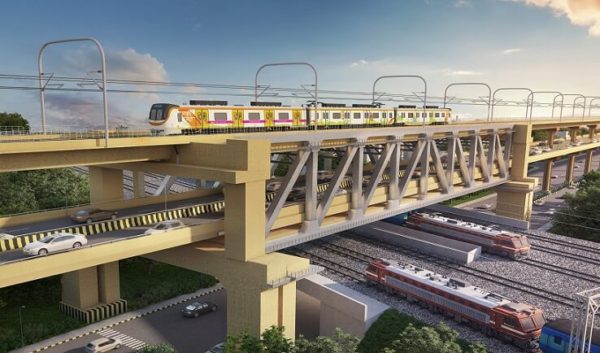 • First level – existing surface road for vehicles (Kamptee Road)
• Second level – existing RuB with railway tracks of the Nagpur – Bhopal line
• Third level – elevated road for vehicles (14.9 m high)
• Fourth level – viaduct for metro trains (24.8m high)
This will be Nagpur's second double-decker viaduct after the 3.41 km structure on Wardha Road, also on the Orange Line.
For more updates, check out the Nagpur section of The Metro Rail Guy!
– TMRG