Afcons Infrastructure has emerged as the lowest bidder for constructing a 7.144 km viaduct on Nagpur Metro's 19.658 km north-south Line-1 after officials from the Maharashtra Metro Rail Corporation Limited (MahaMetro) this weekend opened the financial bids submitted by different civil infrastructure companies.
This section between Automotive Square – Sitabuldi is referred to as Reach-2 and will consist of a 4.375 km double-decker viaduct – the third such structure in Nagpur (1st is on Wardha Road & 2nd is on Bhandara Road) for local traffic (level-0 on the ground), motor vehicles (level-1) and metro trains (level-2). After Reach-1, Reach-3 and Reach-4, this is the last and shortest leg of the 38.215 km Phase 1 project where work will start.
MahaMetro invited bids for this package (N1C-12) in April 2017 with an estimated cost of Rs 630 crores, and Afcons Infrastructure put in the lowest bid at Rs. 604 crores.
Financial bid values submitted by the lowest technically qualified firms:
| | |
| --- | --- |
| Firm | Bid |
| Afcons | Rs. 604 cr |
| NCC | Rs. 686 cr |
| ITD Cem | Rs. 708 cr |
| IL&FS | Rs. 730 cr |
In the coming months, MahaMetro will invite separate bids for the construction of 6 stations on this section which will be located at Automotive Square, Nari Road, Indore Square, Kadvi Square, Gaddigodam Square and Kasturchand Park. The Zero Mile Station is part of Reach-2, but was previously awarded to ITD Cementation as part of a separate contract – see its design rendering and a recent construction image.
If no issues arise, then in the coming days MahaMetro will go on to award Afcons Infra with the 38.215 km Phase 1 project's 7th major civil contract – see a list of contractors here. Once awarded, MahaMetro would like work to be completed within 120 weeks (approx. 2 years 4 months).
Phase 1's Status
Green: Under Construction (Viaduct & Stations) – Reach-1 & Reach-3 | Red: Under Construction (Viaduct) & Financial Bids Opened (Stations) – Reach-4 | Purple: Financial Bids Opened (Viaduct) & Bids Yet to be Invited (Stations) – Reach-2 | Black: Bids Yet to be Invited – Sitabuldi Interchange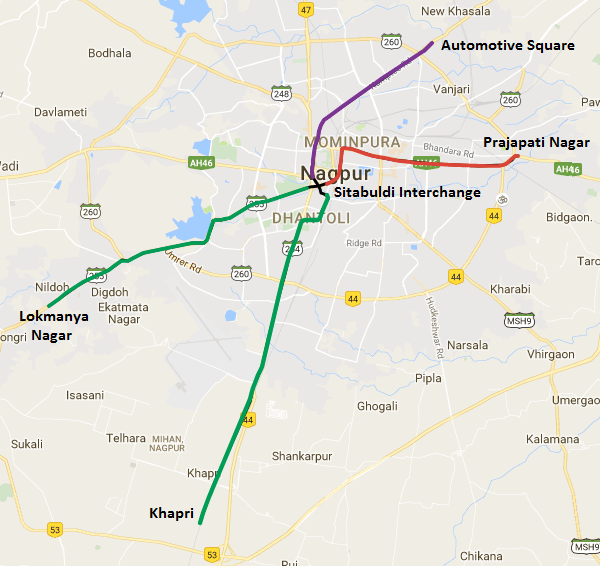 October Update – Afcons Infra was awarded the contract (LOA) on October 16, 2017.
For more updates, check out the Nagpur section of The Metro Rail Guy!
– TMRG