The Maharashtra Metro Rail Corporation Limited (erst. Nagpur Metro Rail Corporation Ltd.) has launched the bidding process for the 19.658 km north-south line's 7.144 km Reach-2 section by inviting bids for its viaduct's construction on Kamptee Road between Sitabuldi and Automotive Square in the northern part of the city.
After Reach-1, Reach-3 and Reach-4, this is the last and shortest section of the project where work will start. This package is officially referred to as N1-C12, and like Reach-1 on Wardha Road in south Nagpur, it will include a 4.375 km double-decker viaduct for local traffic (level-0 on the ground), motor vehicles (level-1) and metro trains (level-2).
Notice Inviting Tenders
Design and Construction of Elevated Viaduct of Length 2.769 KM from CH:3620.950 to CH:3962.558, 4042.558 to 5988.303 and 6131.017 to 6612.560 between Gaddigodam to Sitabudi (Excluding Zero Mile Station)

AND

Railway Span Near Gaddigodom, Viaduct and Road Cum Rail Flyover (Double Decker) of Length 4.375 KM including Approach Ramps from CH:673.910 to 3620.950 and 3962.558 to 4042.558 On BOQ Basis (Reach 2)
– link to notice
In the coming months, MahaMetro will invite separate bids for the construction of 7 stations on this section which will be located at Automotive Square, Nari Road, Indore Square, Kadvi Square, Gaddigodam Square, Kasturchand Park and Zero Mile:
MahaMetro has estimated this package to cost Rs 630 crore. The last date for submitting tender documents for bidding is May 29 2017 (4 pm) after which the bids will be opened & evaluated for eligibility at 4:30 pm. Financial bids are expected to be opened towards the end of Q3 2017 with work starting by the end of 2017.
The 4.375 km double-decker viaduct section will start north of the Indian Railways' lines at Gaddigodam Square and end north of the Automotive Square Station. Elsewhere in India, Jaipur (below), Chennai and Kochi each have one such structure, and construction for another one in Bangalore is expected to start in 2018.
Snap of the one in Jaipur:
Although this package doesn't include the construction of this section's stations, it's worth taking a look at some of the concept designs released by MahaMetro:
Phase 1's Status
With this development, MahaMetro now only has to invite bids for Reach-2's stations and the Sitabuldi Interchange Station – see its design renderings which were finalized in January here.
Green: Under Construction (Viaduct & Stations) | Red: Contract Awarded (Viaduct Only) | Purple: Bids Invited (Viaduct Only) | Black: Bids Yet to be Invited (Sitabuldi Interchange)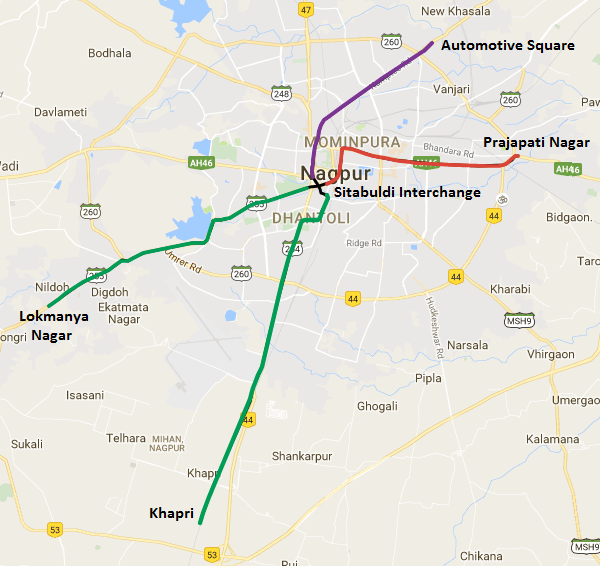 For more updates, check out the Nagpur section of The Metro Rail Guy!
– TMRG