As per Decccan Herald, Karnataka's Chief Minister B S Yediyurappa on March 17 informed the state's Legislative Assembly that the Bommasandra – Attibele (approx. 10 km) extension of Bangalore Metro's Line-3 was not feasible due to low ridership projections.
As per the criteria fixed by the Centre for metro projects, this extension line does not have feasibility.

B S Yediyurappa, CM Karnataka
Back in February 2018, the MD of the Bangalore Metro Rail Corporation Ltd. had identified the following corridors / lines as part of a 105 km future Phase 3 project to primarily connect the city's suburbs –
1. JP Nagar to KR Puram via Hebbal (Line-5/ORR Line extension)
2. Magadi Road Toll Gate to Kadabagere (new line)
3. Gottigere to Basapura (Line-4 extension)
4. R K Hegde Nagar to Aerospace Park (new line)
5. Kogilu Cross to Rajanukunte (new line)
6. Bommasandra to Attibele (Line-3 extension)
7. Iblur to Carmelaram (new line)
Key: Phase 1 | Phase 2 | Phase 2A | Phase 2B | Phase 3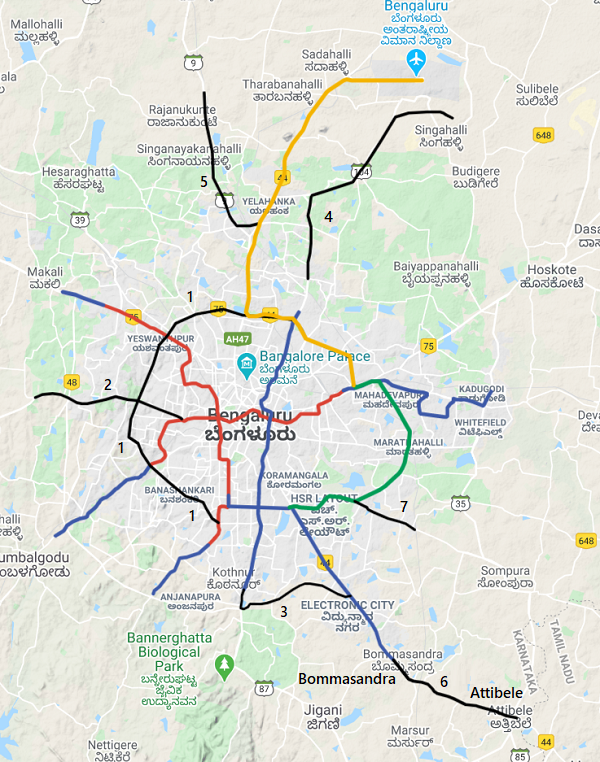 Since 2018, the following changes to Bangalore's Phase 3 have been made. In the coming years, in fact all the way until bidding begins, more changes can be expected.
1. KR Puram – Hebbal section has been included in Phase 2B as an extension of Line-5 to the airport. The rest from JP Nagar to Hebbal (termed as ORR-West) has been proposed to be built as light rail transit (LRT) system (termed 'metro-lite') line under the public–private partnership (PPP) model. BMRCL has assigned orange as this line's color.
2. Magadi Road – Kadabagere line (approx 14 km) is also planned to be developed as a light rail transit (LRT) system (or metro-lite) line under the public–private partnership (PPP) model.
4. R K Hegde Nagar to Aerospace Park line's southern terminal will have to be re-determined as it was planned to originate from the Line-5's local RK Hegde Station as part of the Airport-link. If anything, it'll likely now be a northern extension of Line-4 from Nagawara.
6. Bommasandra to Attibele – dropped for being unfeasible at this time.
Are there any other changes I haven't captured?
Over the past year, a 34 km underground inner ring line has been proposed by an associate professor at the Indian Institute of Science (IISc), but I haven't seen any indication that it'll be included in Phase 3 plans. That line proposes to connect Yeshwantpur, Mekhri Circle, Indiranagar, Domlur, Koramangala, BMS College, Toll Gate and Mahalaxmi Layout.
For more updates, check out the Bangalore section of The Metro Rail Guy!
– TMRG
Hat-tip to Mohan