Amidst the suspension of metro services and construction work due to COVID-19, GR Infraprojects Ltd. (GRIL) has emerged the lowest bidder for constructing the 8.5 km Gurugram section of the 164 km Delhi – SNB – Alwar Regional Rapid Transit System (RRTS) line.
Tenders for the construction of this elevated section – the very first package of the line – were invited by the National Capital Region Transport Corporation (NCRTC) in November 2019 under contract COR-OF/014. Following that, prequalification documents & technical bids were opened on February 14 to reveal 3 bidders, and financial bids were opened online on April 4.
Here are the financial bid values submitted by all 3 bidders. As per a source, NCRTC's estimate was Rs 588 crore.
| | |
| --- | --- |
| Firm | Bid |
| GR Infraprojects Ltd. (GRIL) | Rs. 592,17,65,833 |
| Tata Projects Ltd. (TPL) | Rs. 648,50,36,616 |
| Cherian Varkey Construction Co. Pvt. Ltd. (CVCC) | Financial Bid Not Opened (Technical Bid Rejected) |
Scope: Construction of the Elevated Viaduct from end of the Ramp at IDPL Complex to Start of Ramp at Rajiv Chowk and three nos. of Elevated Stations viz., Udyog Vihar, Sector-17 and Rajiv Chowk of Delhi- SNB Regional Rapid Transit System (RRTS) Corridor.[DA/CN/COR-OF/014]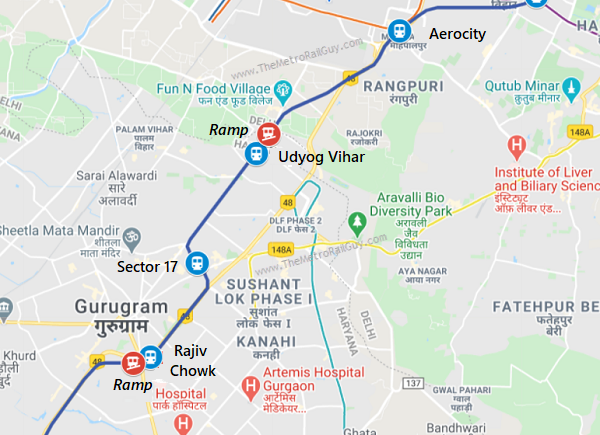 This section's geotechnical investigation contract was awarded to CEG Test House and Research Pvt. Ltd. in February 2019, and Continental Piling & Excavation won the contract for conducting initial pile load tests in March 2019.
Back in February, L&T Infrastructure Engineering Ltd. was awarded a Rs. 6.75 crore contract for the Detailed Design Consultant (DDC) service for this section to assist NCRTC with producing and proposing alternate designs of all civil, architectural, building services, electrical and mechanical works.
Out of the three RRTS corridors prioritized for implementation, the 82.15 km Delhi – Meerut RRTS line's priority corridor was well under construction in Ghaziabad prior to the lockdown. If no issues arise with GR Infra's bid or with the resumption of construction and its local supply chain, then the first ever portion of the 164 km Delhi – SNB – Alwar line will also be under construction this year – hopefully by the end of the summer.
For more updates, check out the NCR RRTS section of The Metro Rail Guy!
– TMRG