The Delhi Metro Rail Corporation (DMRC) on May 11 canceled its tender to procure 24 additional coaches to run on Delhi Metro's 22.9 km Airport Express Line which is being extended by 1.878 km to ECC Dwarka Sector-25.
Tenders/bids for the procurement of these coaches (4 train-sets of 6 cars) were invited in August 2019 under contract RS14 Dev, and the prequalification documents & technical bids were opened on December 5, 2019 to reveal CRRC Nanjing Puzhen Co. Ltd as its sole bidder.
The DMRC's rolling stock team evaluated CRRC's technical bid for over 5 months and decided to discharge the tender with no official reason provided in the technical evaluation report. On the procurement side of things, the reason provided is simply "Due to administrative reasons/issues".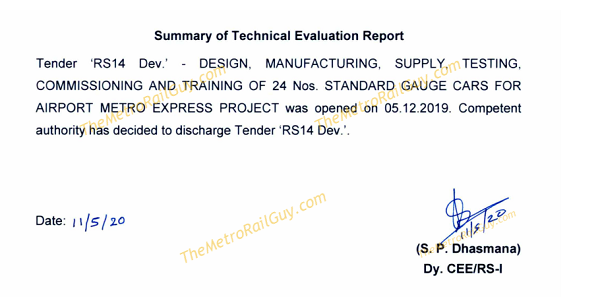 This was DMRC's second attempt to procure additional coaches. Last time around, they were trying to procure 36 coaches and cancelled the tender process for similar reasons.
Trains on the 22.9 km Airport Express Line currently run between the New Delhi Railway Station and Dwarka Sector-21 (see map), and by 2022 will run up to Dwarka's Exhibition-cum-Convention Centre (ECC) through a new 1.878 km underground extension currently under construction by YFC-MBZ JV, so these new coaches were required to maintain the 15 minute headway between successive trains.
The line is currently equipped with 48 coaches (8 train sets of 6 coaches) supplied by Construcciones y Auxiliar de Ferrocarriles (CAF) which can run up to a maximum speed of 120 kmph – take a virtual tour of one of the trains here.
Stay tuned to see if DMRC will invite bids for a 3rd time. My hunch is they'll do so after a couple months.
For more updates, check out the Delhi section of The Metro Rail Guy!
– TMRG