After being appointed to prepare Visakhapatnam Metro Phase 1 project's new Detailed Project Report (DPR) in March, Urban Mass Transit Company (UMTC) has now also been appointed to prepare a DPR for the 60.2 km Visakhapatnam Metrolite (tram) project that proposes to connect sparsely populated areas in and around the city.
In its letter date June 1, the Andhra Pradesh government has directed the recently renamed Andhra Pradesh Metro Rail Corporation (APMRC) to issue a letter of acceptance to UMTC for preparing its DPR and Alternative Analysis Report after the firm submitted the lowest bid of Rs. 3.37 crore among all contenders.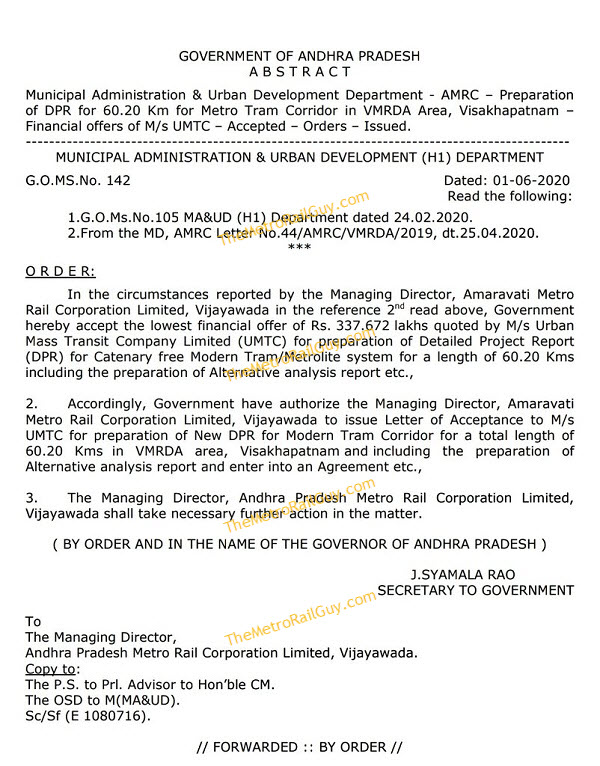 Vizag's Metrolite is planned as a modern catenary free tram system, and will likely rely on on-board energy storage devices like batteries and super capacitors as seen in Seville, Spain –
The following 4 routes / corridors were identified earlier this year for implementation under the Vizag Metrolite project:
NAD Juncion – Pendurti: 10.2 km
Steel Plant – Anakapalli: 18.20 km
Old Post Office – Rushilkonda: 15.40 km
Rushilkonda – Bheemli Beach – 16.40 km
These metrolite routes will feed into different lines of the 79.91 km Vizag Metro project, and when ready, will together form a roughly 140 km transit system for the city.
For more updates, check out the Home Page of The Metro Rail Guy!
– TMRG
Hat tip to Subhash Srikantam