Moments ago, Chennai Metro Rail Ltd. (CMRL) opened bids from design engineering and project management firms to reveal that 9 bidders, all in a joint venture, had submitted Expression of Interest (EOI) proposals for Chennai Metro Line-4's General Consultant (GC) contract.
The 26.09 km east-west Line-4 will connect Lighthouse with Poonamallee Bypass via Porur through 30 stations, 18 elevated and 12 underground, in the 118.9 km Chennai Metro Phase 2 project.
CMRL had invited EOI proposals / applications on January 11, 2020 to assign a General Consultant with an objective to assist them in the preparation and speedy implementation of the project. Per the notice, a consultant will be selected in accordance with the Quality-Cost Based Selection (QCBS) method.
Bidders:
JV of M/s AECOM ASIA COMPANY LIMITED, M/s Systra and M/s. CONSULTING ENGINEERS GROUP LIMITED
JV of M/s Egis Rail SA, M/s MM SPA, M/s Italferr SPA and M/s Surbano Jurong Infrastructure Pte Ltd
JV of M/s Louis Berger SAS, M/s Geodata Engineering SpA and M/s Hill International Inc
JV of M/s TPF Getinsa Eurostudios S.L, M/s Artelia SAS & M/s Rodic Consultants Pvt. Ltd.
JV of M/s RITES Ltd, M/s Nippon Koei India Pvt. Ltd, M/s Nippon Koei Co. Ltd, M/s Arup India Pvt. Ltd and Ove Arup & Partners International Ltd.
JV of M/s Dar Al-Handasah Consultants (Shair and Partners) s.a.l. (DAR), BALAJI RAILROAD SYSTEMS Pvt. LTD (BARSYL) and China Railway Eryuan Engineering Group Co. Ltd. (CREEC)
JV of DB Engineering & Consulting GmbH, Ayesa Ingeniería y Arquitectura, S.A.U, Korea Rail Network Authority and Dohwa Engineering Co. Ltd
JV of M/s RINA Consulting SPA and Yuksel Proje Uluslararasi A.S
JV of M/s AudingIntraesa SA Spain, M/s Tata Consulting Engineers Limited, India and M/s STUP Consultants Pvt. Ltd, India.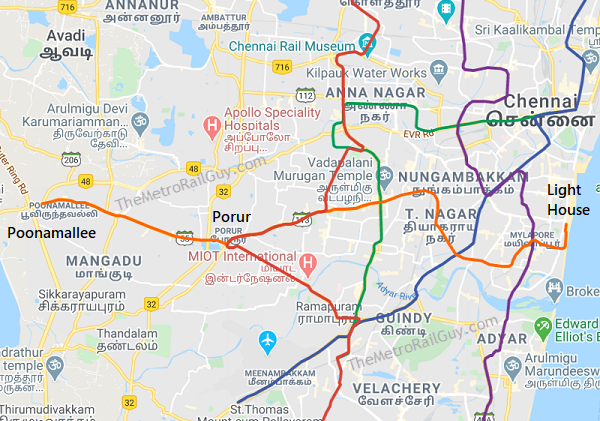 This consultancy service will be financed by the Asian Infrastructure Investment Bank (AIIB). In December 2019, AIIB approved a concept proposal to lend USD 356.65 million (approx. Rs. 2700 crore) to finance a part of Line-4's construction including support and technical assistance required by CMRL.
Back in 2019, a consortum of Nippon Koei India Pvt. Ltd., Aarvee Associates Architects Engineers & Consultants Pvt. Ltd. and Balaji Railroad Systems Pvt. Ltd were awarded a General Consultancy contract, valued at Rs. 348.1 cr (5.4 billion yen), for the 52.01 km priority section (Line-3 & Line-5) of Chennai Metro's Phase 2 project.
For more updates, check out the Chennai section of The Metro Rail Guy!
– TMRG