BEML today announced it had flagged-off the final of 14 train-sets for Kolkata Metro's east-west 16.34 km Line-2, connecting Howrah with Sector V, from its metro coach factory in Bengaluru.
This 6-coach train-set is part of a 84 coach order that BEML won in January 2016 with a value of Rs 900 crore. BEML had unveiled the train's design in July 2017, a full-scale mock up in February 2018, and delivered the first train-set to Kolkata's Central Park Depot in April 2018.
Here's a snippet from BEML's press release:
BEML independently completed the design, manufacturing activities and the delivery of the prototype train set was done during March 2018, which was subjected to extensive testing and trials on KMRC mainline including statutory testing by RDSO & CRS and cleared all the tests. Subsequently, BEML built KMRC train sets were put to revenue operation since February 2020 and are operating satisfactorily. Further, 6 train sets are ready for deployment in revenue operation.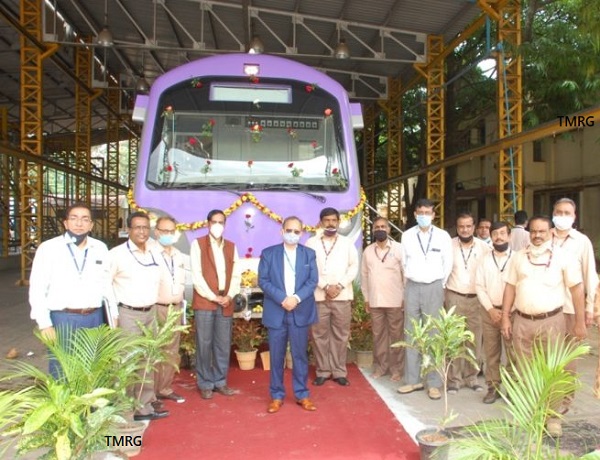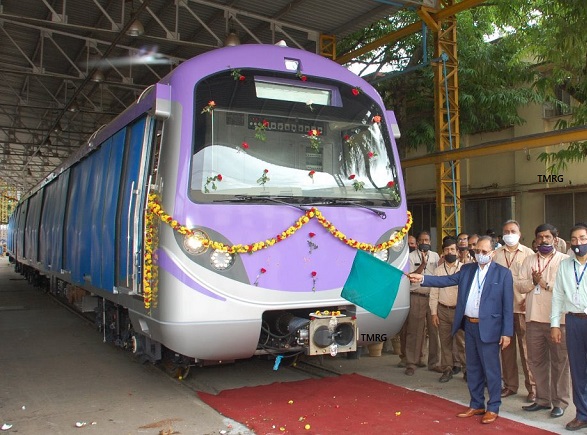 The coaches will now be put on top of trailers for delivery to Kolkata Metro Rail Corporation (KMRC) by month-end.
Key features of the train-sets:
Stainless Steel car body furnished with world class interiors and customized air conditioning suiting local requirements.
Bogie for 750V DC Third Rail application is designed & developed by BEML for the first time.
IGBT based microprocessor controlled 3 phase asynchronous drive with VVVF (Variable Voltage Variable Frequency) control and regenerative braking for energy saving.
Train sets operate with ATP / ATO and is interfaced with CBTC signalling system (which is one of the best and latest technologies in the world) to reduce headway, ensure train stopping accuracy and passenger safety.
Passenger capacity of 2068 persons per train set
Energy efficient LED lights
Automatic audio-visual announcement and display system for passengers
A full list of features with graphics and videos shared earlier can be viewed here.
For more updates, check out the Kolkata section of The Metro Rail Guy!
– TMRG