Per an updated map on the National Capital Region Transport Corporation (NCRTC)'s website, the operator has officially modified the alignment of its 106 km Delhi – SNB RRTS line within Delhi where it'll run underground between Sarai Kale Khan and Gurgaon's IDPL Complex Ramp on the Delhi – Haryana border.
The station earlier approved to come up at Jor Bagh has now been moved roughly 1.5 km south to INA. The file's URL address indicates the new revised map was uploaded in March 2020.
This is a super exciting development and something I've always wanted as this'll now allow easy transfers to the Delhi Metro's Pink Line in addition to the Yellow Line which is serviced by both Jor Bagh and INA stations.
With its eastern terminal at Sarai Kale Khan, this semi high-speed rail line will consist of 3 new stations within Delhi at INA (interchange for Pink & Yellow lines), Munirka (interchange for Magenta line) and Aerocity (interchange for Airport Express and Phase 4's upcoming Aerocity-Tughlakabad lines) as shown below: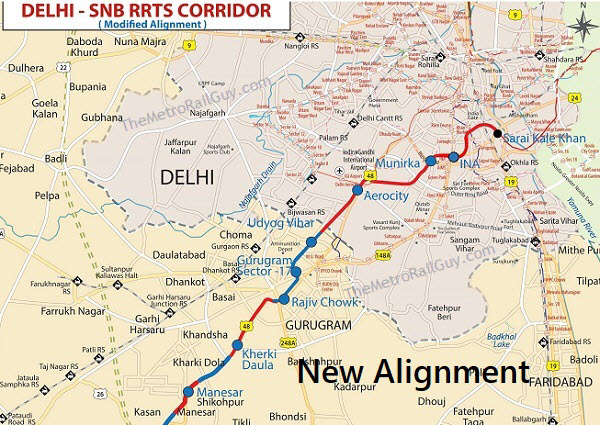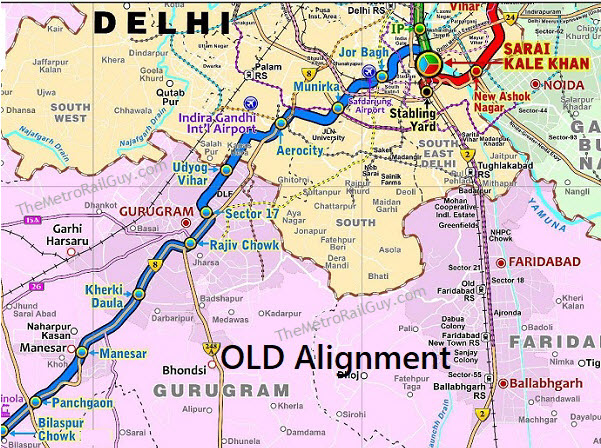 The Delhi – SNB RRTS line's Detailed Project Report (DPR) with Jor Bagh as a station was approved for construction by the NCRTC's board in December 2018, Haryana Government in February 2019 and Rajasthan Government in June 2019.
Since then, bids for only 1 section have been invited & opened to reveal GR Infraprojects as the lowest bidder for the 8.5 km Gurugram (IDPL Complex – Rajiv Chowk) section with 3 elevated sections.
For the section south of Gurugram, NCRTC awarded Continental Piling & Excavation Pvt. Ltd. with 2 contracts for initial pile load tests in March & December 2019, and on this Thursday opened bids for the Detailed Design Consultant (DDC) service for 7 stations and Dharuhera Depot.
With this development, I've now modified the route map on the 164 km Delhi – Alwar RRTS line's information page.
For more updates, check out the NCR RRTS section of The Metro Rail Guy!
– TMRG