Workers from ITD Cementation and Herrenknecht on Friday resumed tunneling work on Kolkata Metro's east-west 16.34 km Line-2 three months after it had been suspended, for the second time in a year, due to the nationwide COVID-19 related lockdown. 
Last year, tunneling work came to an abrupt halt on August 31 when TBM S615, nicknamed Chandi or Chundee, hit an aquifer leading to heavy soil displacement in the Bowbazar area. This triggered the collapse of several residential buildings between Syakra Para and Durga Pithuri lanes over a month's period. Several other buildings developed cracks and more than 600 people had to be evacuated to raze the structures.
Tunneling work using TBM S616, nicknamed Urvi, resumed on February 18, 2020 after Kolkata's High Court allowed work to restart under strict supervision. On March 19, ITD Cementation stopped tunneling work for maintenance of the machine after which work couldn't resume due to the lockdown.
Per Times of India:
When it stopped for maintenance in March, Urvi had made 1,224 rings and covered around 230m from the curve at Nirmal Chunder Street, through the serpentine lanes of Gour De Lane and Shykrapara Lane before reaching Durga Pithuri Lane, where the tunnelling fiasco took place. Urvi resumed operations from here, at the junction of Durga Pithuri Lane and Shykrapara Lane. The TBM must cover around 70m to reach the main road, BB Ganguly Street, from where it turns right towards Sealdah station.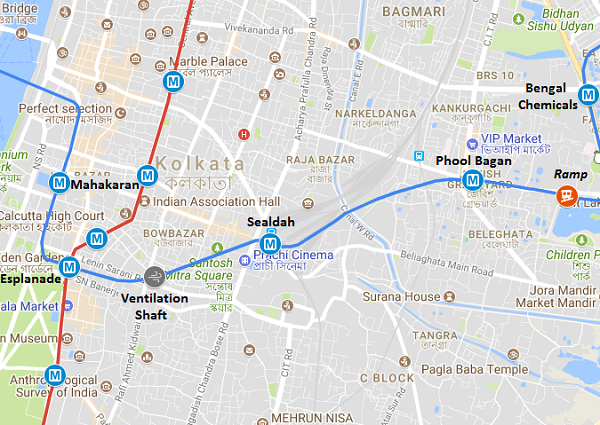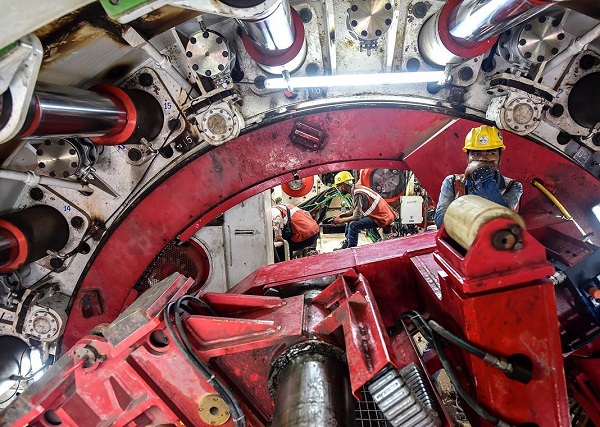 With TBM Chandi's role over long over, workers have now also started guide-wall construction for a new mid-shaft (view satellite imagery of the site) to lift it out.
Per the new tunneling plan, Urvi will continue tunneling towards eastward (it has roughly 900m to go) to make a breakthrough at Sealdah Station, and then tunnel back westward to the mid-shaft to complete the pending tunnel of the up-line tunnel.
For more updates, check out the Kolkata section of The Metro Rail Guy!
– TMRG