A total of twenty five design and engineering firms have submitted bids to prepare General Arrangement Drawings (GADs) for the Detailed Project Report (DPR) of the upcoming 865 km Delhi – Varanasi High Speed Rail (DVHSR Bullet Train) corridor which'll connect both cities through 12 stations.
These GADs include drawings of the main-line's bridges for crossing rivers, canals, railway lines, roads enroute as well as 12 stations and 12 maintenance depot facilities.
National High-Speed Rail Corporation Limited (NHSRCL) re-invited bids for this service in July with a completion period of 3 months, and opened technical bids on Wednesday to reveal the following 25 bidders:
AXYKNO Capital Services Pvt. Ltd.
Aakar Abhinav Consultants Pvt. Ltd.
Aarvee Associates Architects Engineers and Consultants Pvt. Ltd.
Balaji Railroad Systems Pvt. Ltd.
Bim Integrated Services Pvt. Ltd.
CE Testing Company Pvt. Ltd.
Casta Engineers Pvt Ltd.
Civilbaba Infra Consultant Pvt. Ltd.
Delhi Integrated Multi-Modal Transit System Ltd.
Geo Designs and Research Pvt. Ltd.
LKT Engineering Consultants Ltd.
Park Projects Consultancy Pvt. Ltd.
Pipetech Engineering Solution Pvt Ltd.
Primerail Infralabs Private Ltd.
RCC Infrastructure Consultants Pvt. Ltd.
RITES Ltd.
Rodic Consultants Pvt. Ltd.
SATRA Infrastructure Management Services Pvt. Ltd.
Skylark Designer and Engineers Private Ltd.
Sparsh Engineering Company(P) Ltd.
Stup Consultants Pvt. Ltd.
TATA Consulting Engineers Ltd.
TPF Engineering Pvt Ltd
Translink Infrastructure Consultants Pvt. Ltd.
Voyants Solutions Pvt. Ltd.
Contract: NHSRCL/CO/CONT./GAD/2020/12
Scope: [Preparation of GADs of Crossing Bridges over Rivers, Canals, Railways and Roads (Expressway, NH and SH and Major District Roads) and GADs of proposed Stations and Maintenance Depots for DPR of Delhi Varanasi HSR Corridor][NHSRCL/CO/CONT./GAD/2020/12]
Tentative stations on this line provided by NHSRCL in the past include – Delhi, Noida, Jewar, Mathura, Agra, New Etawah, South Kannauj, Lucknow, Raibareli, Prayagraj (Allahabad), New Bhadoi, and Varanasi.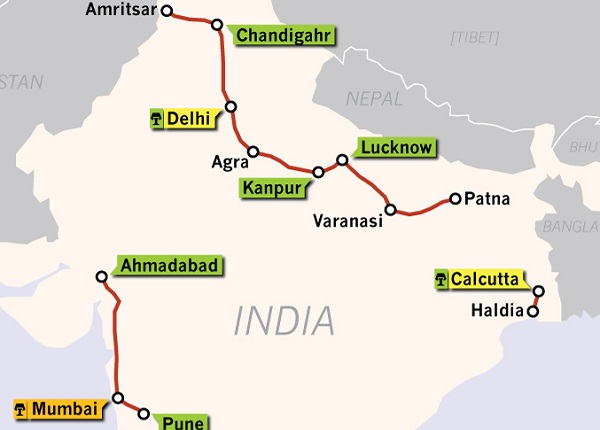 Scope of Works
There are 12 stations planned in the proposed corridor including Delhi and Varanasi. There are 12 Maintenance Depots planned along the corridor. The Contractor is required to prepare GADs of the crossing bridges across rivers, canals, railways, and roads (Expressway, NH & SH and Major District Rords) for the proposed High Speed Rail Corridor. The Contractor is also required to prepare GADs (Layout Plan) of Stations and Maintenance Depots.
For span configuration of crossing bridges, NHSRCL proposes to adopt and utilize & propose to use the existing standard set of superstructure for this project as detailed below. Any requirement of additional span of different length or nonstandard span shall be intimated to NHSRCL.
Up to 45 m crossing length, Simply supported PSC box girders of standard spans 25m, 30m, 35m, 40m & 45 m shall be adopted. Beyond this, PSC box girders in continuous configuration (three / four spans) may be adopted. For crossing length 60m and beyond steel truss girders with deck slab in Simply Supported spans of 60m, 70m, 80m, 90m and 100m may be adopted. In unavoidable cases continuous configuration may be adopted.
The works shall be carried out following NHSRCL's Schedule of Dimension(SOD) for High Speed Rail and various clearances shall be as per codal provisions of the respective authorities. While preparing the GADs:
Each GAD of crossing bridges must include key plan, half top and half bottom plan, and sectional elevtion of the crossing bridge incorporating relevant details such as ground level & rail level as per Index Plan and Section provided by the employer, span length, pier and pier cap dimensions, centre to centre distance between two tracks (4.50m), and top width of the viaduct (11.90m – Straight section and 12.4m – Curved Section ). Station and Depot GADs must include general layout of the station/depot including tracks, platforms etc.
Each GAD must also include title block, general notes, drawing nos. and space for NHSRCL drawing approval number.
Contractor shall follow best industrial practices.
Contractor shall comply/incorporate all the comments offered by the Employer on the Draft GADs before submission of the final GADs.
Employer will provide basic data of the proposed corridor which will include:
Route alignment (KMZ file and or other electronic format) of the Project Alignment to identify the crossing locations.
Plan and longitudinal Section of the proposed High Speed Corridor.
Hydrological Data e.g. H.F.L., Rainfall data, discharge etc. and data in respect of nearby existing bridges such as bridge length, span arrangement etc., for various rivers, streams etc. crossing the proposed HSR alignment.
Geotechnical Data in respect of existing/proposed/under-construction bridges, viaduct etc. in vicinity of the proposed HSR alignment as available.
Employer will provide tentative Locations of proposed Stattions & Maintenance Depots and number and length of lines in each of Station Yards and the Depots.
Bids for other services required to prepare the Delhi – Varanasi High Speed Rail line's DPR are planned to be opened in August. These include Final Alignment Design including Aerial LIDAR Survey, Data Collection and Associated Survey Work and Environmental Impact Assessment Study.
For more updates, check out the High Speed Rail section of The Metro Rail Guy!
– TMRG