September 18: NCC today received a LOA from DMRC awarding this section's contract valued at Rs. 552.93 crore.
Original Post: NCC Limited today emerged as the lowest bidder for constructing the 30.91 km Patna Metro Phase 1 project's 6.107 km Malahi Pakri – New ISBT section of the 14.05 km Line-2 which will connect Patna Junction Railway Station – New ISBT through 14 stations, after officials from the Delhi Metro Rail Corporation (DMRC) opened financial bids submitted by different infrastructure companies.
DMRC invited tenders for this section's construction on February 28, 2020 with an estimated cost of Rs. 514.924 crore and opened technical bids in June to reveal 5 bidders. Of those, Dineshchandra R. Agrawal Infracon's bid was disqualified, so their financial bid was not opened.
| | |
| --- | --- |
| Firm | Bid |
| NCC Limited | Rs. 552.93 crore |
| Sam (India) Builtwell Pvt. Ltd. | Rs. 561.96 crore |
| SP Singla Constructions Pvt. Ltd. | Rs. 589.84 crore |
| GR Infraprojects Ltd. | Rs. 667.09 crore |
Contract: PC-01
Completion Period: 30 months
Brief Scope: Part Design and Construction of Elevated Viaduct, Viaduct connection to Depot including elevated ramp for Depot, Stabling & Extension of Viaduct for Corridor-1 at Khemni Chak Station,Special Spans, Elevated Ramp at Malai Pakri and Five Elevated Stations viz. Malai Pakri, Khemni Chak (Interchange station), Bhoothnath, Zero Mile & New ISBT (Excluding Architectural Finishing works of stations & PEB works of stations) from Chainage 8020.000 mt. to 14127.726 mt. of Patna Railway station to New ISBT Corridor 2 of Phase-I of Patna MRTS.
This first section of the 30.91 km Patna Metro Phase 1 project will consist of 5 elevated stations in south-east Patna. Among them, the Khemni Chak Station on NH-22 Bypass will serve as one of the two interchange stations for the system. The package's scope also includes the construction of a viaduct leading to the New ISBT Depot, as well as a small rake-interchange viaduct at Khemni Chak connecting to the 16.85 km Line-1.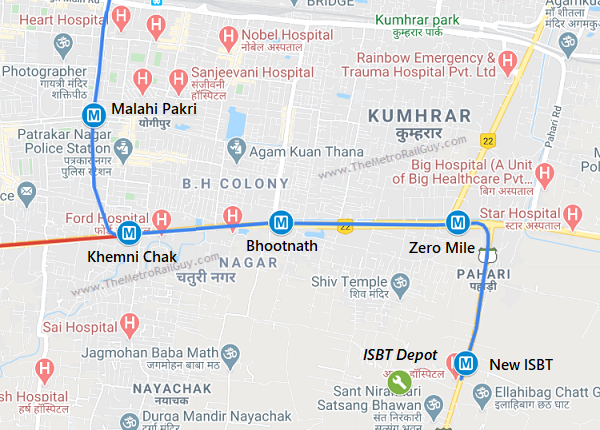 NCC's bid is 38 crore (7.38%) higher than DMRC's estimate, which isn't awfully high, but it still remains to be seen if the DMRC will entertain their bid, negotiate by reducing scope or re-invite bids (unlikely, in my opinion).
If the DMRC accepts the bid during financial bid evaluation, then NCC will go on to be awarded with Patna Metro's second major civil construction contract in the coming weeks, with construction expected to start in Q4 2020. Last month, Quality Buildcon had emerged as the lowest bidder for building the New ISBT Depot. Bids for other sections of the network are yet to be invited.
For more updates, check out the Patna section of The Metro Rail Guy!
– TMRG