The Delhi Metro Rail Corporation (DMRC) today invited bids for the construction of the first package of Patna Metro's 16.86 km Line-1 of the Phase 1 project which'll connect Danapur Cantonment with Khemni Chak through 16 elevated & underground stations.
This first section comprises of two disjointed elevated portions – a roughly 4 km viaduct connecting Danapur with Patliputra Ramp through 4 stations, and the second – another roughly 4 km section with 3 stations connecting Mithapur Ramp with Khemni Chak Station which'll allow users to switch over to the 14.05 km Line-2 (Patna Junction Railway Station – New ISBT).
Package PC-04's Scope: Part Design and Construction of Elevated Viaduct, elevated ramp at Mithapur & Patliputra and seven stations viz Danapur, Saguna More, RPS More, Patliputra, Mithapur, Ramkrishna Nagar & Jaganpura Station (Excluding Architectural Finishing & PEB works) in Corridor-1 of Phase-I of Patna MRTS.
Approximate Cost: Rs. 527.62 Cr
Completion Period: 36 months
Pre-bid Meeting: 06.10.2020 at 11:00 hrs
Date & Time of Submission of Tenders: 02.11.2020 (1500 hrs).
Bid Opening Date: 03.11.2020 at 1500 hrs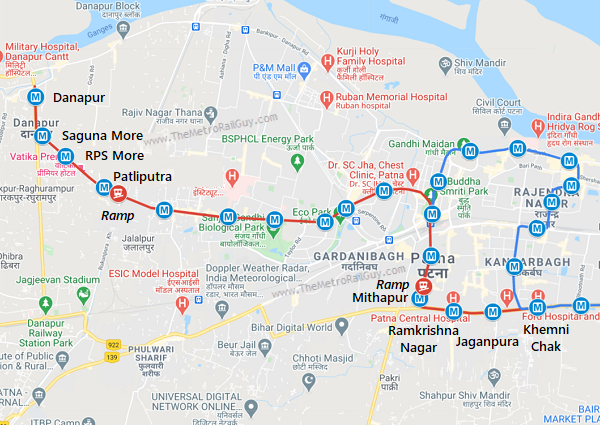 This is the 3rd civil package for the 30.91 km Phase 1's construction. Here's the status of the other two:
| | |
| --- | --- |
| Package | Status |
| PC-01: Construction of Line-2's Malahi Pakri – New ISBT (6.1 km viaduct, 5 stations) | NCC Ltd. (LoA was issued today) |
| PC-02: Construction of New ISBT Depot (Shared by Line-1 & Line-2) | Quality Buildcon is Lowest Bidder |
With this development, DMRC for Line-1 now just has to invite bids for the roughly 8 km underground section between Patlipura Ramp and Mithapur Ramp. That section will comprise of 6 stations at Rukanpura, Raja Bazar, Patna Zoo (formerly JD Women's College), Vikas Bhawan (formerly Raj Bhavan), Vidyut Bhawan, and Patna Junction (interchange).
For more updates, check out the Patna section of The Metro Rail Guy!
– TMRG