India's National High-Speed Rail Corporation Limited (NHSRCL) today opened technical bids for two packages to reveal a total of 13 firms had submitted 14 bids to assist in the preparation of a Detailed Project Report (DPR) for the upcoming 886 km Delhi – Ahmedabad High-Speed Rail project which'll connect both cities through 12 stations in Haryana, Rajasthan and Gujarat.
NHSRCL had invited bids for both Ridership Study and General Arrangement Drawings packages, along with 2 others, on September 1 with a 120 day period of completion. Public sector engineering consultancy company RITES is the only firm which has bid for both.
Carrying Out Ridership Study (Traffic Study) – Tender No: NHSRCL/CO/CA/TRAFFIC/2020/26
Bidders (3):
RITES Ltd.
T&T Consultants Private Ltd.
Urban Mass Transit Company Ltd.
Preparation of GADs (General Arrangement Drawings) – Tender No: NHSRCL/CO/CA/GAD/2020/22
Bidders (11):
Casad Consultants Pvt. Ltd.
Civilbaba Infra Consultant Pvt. Ltd.
Holtec Consulting Pvt. Ltd.
LKT Engineering Consultants Ltd.
Aakar Abhinav Consultants Pvt. Ltd.
Highway Engineering Magnitude Consortium
RITES Ltd.
Satra Services and Solutions Pvt. Ltd.
STUP Consultants Pvt. Ltd.
TATA Consulting Engineers Ltd.
Translink Infrastructure Consultants Pvt. Ltd.
The bids have now been sent for technical evaluation which can take about one month to complete. When that is done, the financial bids of the technically qualified bidders will be opened to reveal who's the lowest bidder and most likely contractor for each package.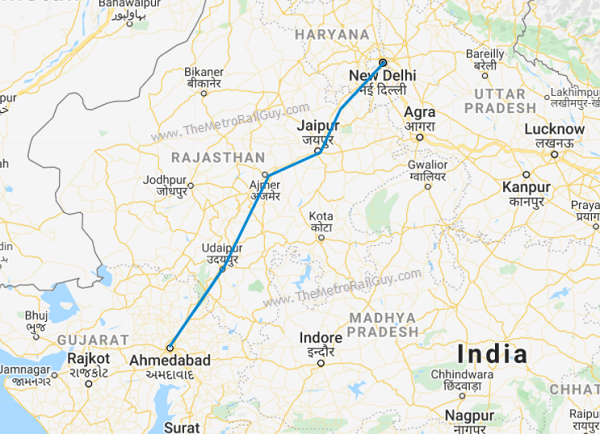 As shared earlier this month – after the 865 km Delhi – Varanasi High-Speed Rail Line, this is the second of six new high speed rail corridors, planned by the Government of India in 2019, for which basic preliminary work has commenced to start construction on the project.
The line is expected to have its southern terminal at Sabarmati Station in Ahmedabad which is currently under construction by BL Kashyap & Sons as part of the 508.17 km Mumbai Ahmedabad High Speed Rail corridor. When ready, both lines will effectively operate as one unified line.
The line's alignment has been proposed to pass through Jaipur and Udaipur, and the GAD contract's tender document had revealed a total of 12 stations and 12 maintenance depots will be built. Their names haven't been revealed though, but I believe they'd come up at or around Himatnagar, Udaipur, Bhilwara – Chittorgarh, Ajmer – Kishangarh, Jaipur, Neemrana, Rewari, Manesar – Gurgaon, with possibly two stations in Delhi.
For more updates, check out the High Speed Rail section of The Metro Rail Guy!
– TMRG