Bombardier Transportation today unveiled the first look of the 40 train-sets they'll supply for the under construction 82.15 km Delhi – Meerut Regional Rapid Transit System (RRTS) line.
Bombardier was awarded the line's rolling stock contract in May 2020 after they placed the lowest bid of Rs. 2577 crore, beating CAF and Alstom.
They will supply National Capital Region Transport Corporation (NCRTC) with a total of 210 standard gauge aerodynamic lightweight coaches – 180 for long distance travel and 30 for local Meerut Metro MRTS services with 15 years of maintenance. NCRTC has the option to procure an additional 90 coaches and two years of maintenance to go with it.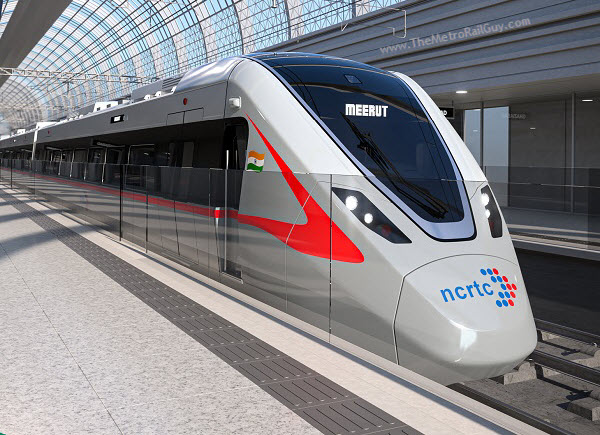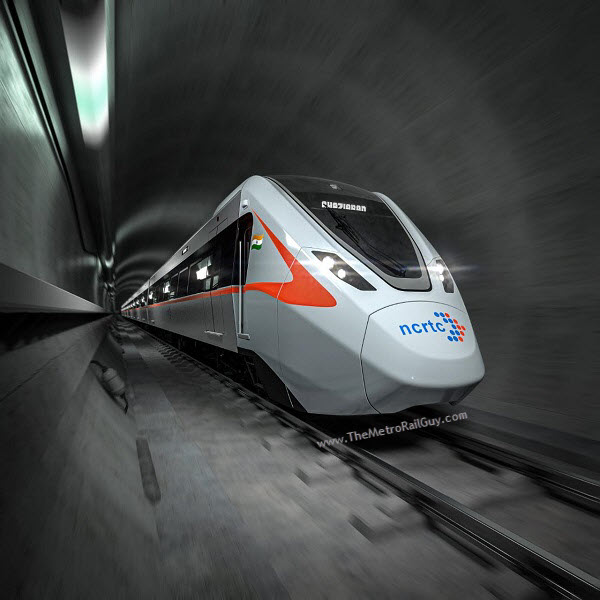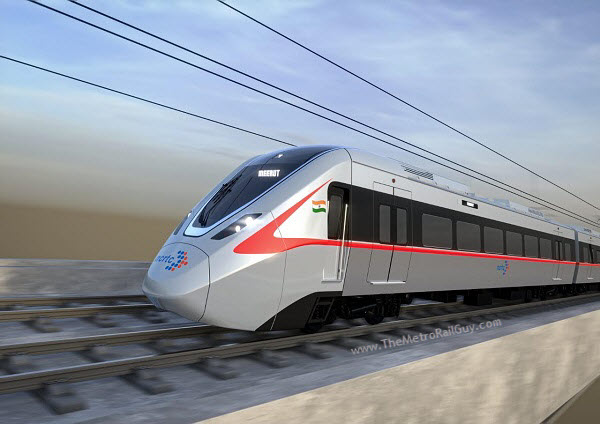 As highlighted in an earlier post, the system's aerodynamic trains will have a stainless steel / aluminium body, with a design speed of 180 kmph, operational speed of 160 kmph and average speed of 100 kmph.
Aided with the line's ETCS Level 2 signalling & train-control system, the journey between Delhi and Modipuram, north of Meerut, will be cut down to an hour (62 minutes advertised) from the current 3-4 hour time it takes by National Highway 34.
Video:
Out of the 210 coaches being procured, 180 coaches (30 train-sets of 6 coaches) will be used for long-distance end-to-end services from Delhi's Sarai Kale Khan Station to Modipuram Station – view route map.
The rest 30 coaches will run as 10 trains in a configuration of 3 cars for servicing the Meerut Metro project's north-south Line-1, with dedicated metro-only stations roughly every kilometre at Partapur, Rithani, Brahmapuri, Meerut Central, Bhaisali, MES Colony, Daurli, Meerut North and Modipuram. The design of those train-sets hasn't been released yet.
Each express RRTS train will consist of one business class coach which will be accessible through a special lounge on the platform-level of certain stations. Coaches will be 22 m long x 3.20 m wide, and are planned to have to have transverse (latitudinal) seats, unlike most metro trains with longitudinal seating, for passenger comfort over long distances.
Bombardier will be manufacturing and supplying these train-sets from their Savli, Gujarat plant with over 83 per cent local content. I expect the first train-set to be delivered to the Duhai Depot in Ghaziabad District in early to mid 2022.
For more updates, check out the NCR RRTS section of The Metro Rail Guy!
– TMRG