Noida Metro Rail Limited (NMRC) today re-invited bids tenders (bids) for the construction of a 9.605 km extension of Noida Metro's Aqua Line from Noida Sector-51 to Greater Noida Sector-2 through 5 elevated stations.
This civil package is a part of a 14.95 km further extension of the 29.7 km Line-1 from Sector 51 to Knowledge Park V which was approved for construction by Uttar Pradesh government's cabinet on December 3, 2019.
NMRC had originally invited tenders for this civil package in May with an estimate of Rs. 430.69 crore, and received bids from 3 firms on July 15 – NCC Ltd., Sam India Builtwell Pvt. Ltd., and an unknown non-construction firm called Shrisay Infotech which is suspected to either have bid for the wrong tender or placed a bid on behalf of a small-time contractor.
In July-end NMRC canceled the tendering process due to "administrative reasons" with NMRC's MD Ritu Maheshwari indicating to the TOI that they will "float the tender again as only two respondents surfaced" to get a better response from the construction industry.
It's worth mentioning – in today's tender notice, the estimated cost has gone up from Rs. 430.69 crore to Rs. 491.99 crore while the completion period has gone down from 26 months to 24 months.
Contract: NGNC-01
Brief Scope: Part Design and Construction of Elevated Viaduct and 5 elevated stations viz NOIDA SEC -122, NOIDA SEC-123 GR. NOIDA SEC-4 ECOTECH-12 GR NOIDA SEC-2 (excluding Architectural finishing Works and PEB works of stations) from Chainage 0.00 m to Chainage 9605 m of Noida -Greater Noida Metro Rail Project.
Estimate: Rs. 491.99 crore
Completion Period: 24 months
Pre-bid Meeting: 09.10.2020 at 1100 hrs.
Date & time of Submission of Tender: 31.10.2020 upto 1500 hrs
Date & time of opening of Tender: 31.10.2020 at 1530 hrs
This package will consist of 5 elevated stations at Noida Sector 122, Noida Sector 123, Greater Noida Sector 4, Ecotech 12 (Tech Zone) and Greater Noida Sector 2.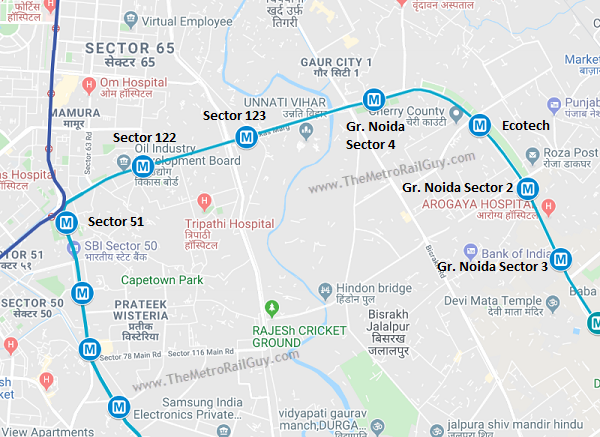 For more updates, check out the Noida – Greater Noida section of The Metro Rail Guy!
– TMRG