Paras Railtech Pvt. Ltd on September 23 emerged as the lowest bidder for the supply and installation of tracks inside the 1.878 km underground extension of the Delhi Metro's 22.9 km Airport Express Line from the Dwarka Sector 21 Station to the upcoming Exhibition-cum-Convention Centre (ECC) in Dwarka's Sector 25.
The Delhi Metro Rail Corporation (DMRC) had invited tenders (bids) for ballastless tracks from firms on March 5 and then opened technical bids on July 6 to reveal two bidders – Paras Railtech and Vijay Nirman Company. Financial bids were opened last week to reveal Paras Railtech had quoted the lowest amount.
DMRC's estimate was Rs. 25.86 crore. I'll add both firms' bid values here when I become aware.
Update: Contract to Paras Railtech was awarded on September 29 with a value of Rs. 23 crore (23,00,02,306)
Contract: CT-36
Scope: Supply, Installation,Testing And Commissioning Of Ballastless Track In Underground Section Of Airport Express Line From Dwarka Sec-21 To ECC Dwarka Sec-25 Standard Gauge Corridor Of Delhi MRTS Project Of Phase-III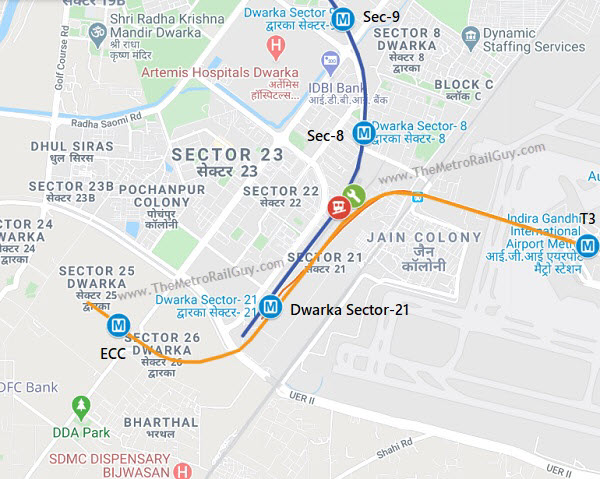 If no issues arise during financial bid evaluation, then Paras Railtech will be issued a Letter of Award in the coming weeks to complete all track-work, from supply to installation to testing to commissioning, in 15 months within the cut and cover tunnels and ECC station.
As shared earlier – this small extension, being built entirely by the cut and cover method, has been under construction by YFC – MBZ JV through the 162 km Phase 3 project's Package CC-127 since January 2018 with a completion deadline of 30 months. The line's targeted opening was later revised to match the exhibition & conference centre's completion which is tentatively slated to host the G20 forum's 2022 summit.
For more updates, check out the Delhi section of The Metro Rail Guy!
– TMRG