Workers from Som Projects Pvt. Ltd. have started erecting the first few steel piers near Punjabi Bagh West Station to form the Delhi Metro's missing Green Line (Line-5) – Pink Line (Line-7) interchange as part of package CC-136 of the Delhi Metro's 162 km Phase 3 project.
This project to build an interchange aims to rectify a major design oversight during the 124 km Phase 2 project's construction between 2006-2010 as the Delhi Metro Rail Corporation (DMRC), for unknown reasons, did not construct a station on the Green Line abutting the Ring Road. During Phase 3's construction, when the Pink Line was being built along this road, the DMRC initially planned to build a 820m foot overbridge to connect the new Pink Line's Punjabi Bagh West Station with the Green Line's Shivaji Park Station, but dropped it for a better long-term solution.
To fix this, Som Projects is now constructing or retrofitting an entirely new 'halt' station with platforms on the operational viaduct of the Green Line, without a concourse area, to allow passengers to board and de-board. From there, riders will then need to go down one level and take a 230m elevated walkway to the reach the concourse area of the Punjabi Bagh West Station of the Pink Line.
LKT Engineering was awarded this project's Detailed Design Consultant (DDC) in October 2019 and Bridgecon Infa Consultants was awarded its Proof Consultant contract in January 2020.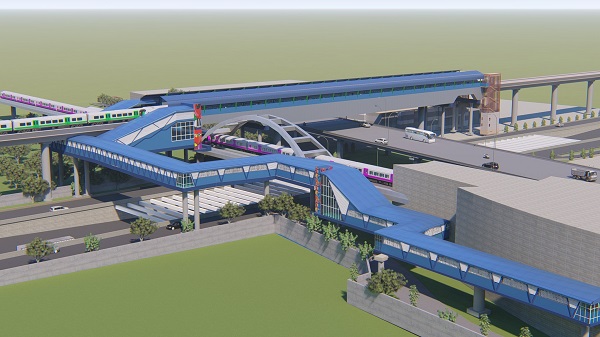 More design renderings of how the interchange will turn out can be viewed here.
Here are some snaps sent by a follower shot next to the Pink Line's Punjabi Bagh West Station shown in the bottom right corner of the above graphic –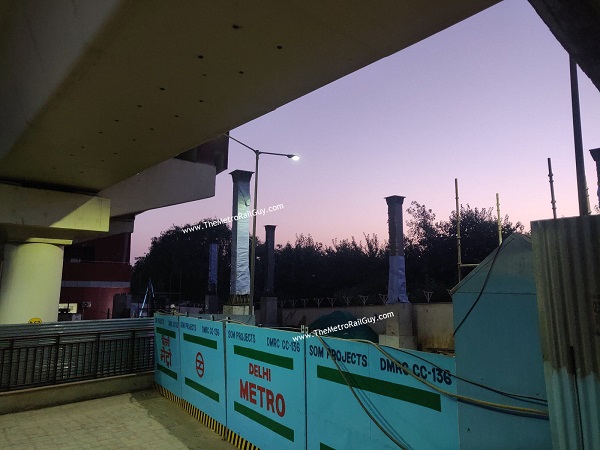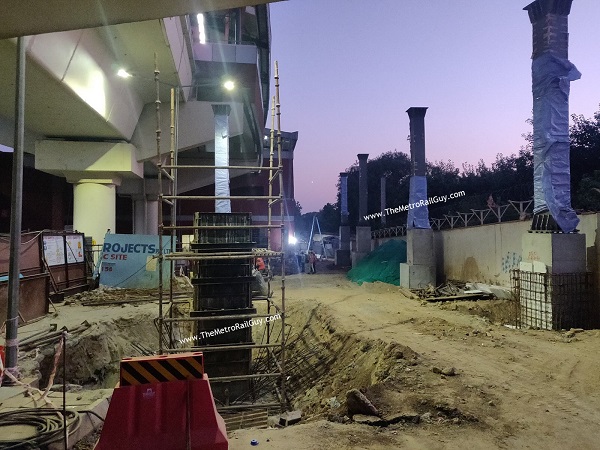 Earlier this week, I tweeted an image showing the other side of Rohtak Road (NH9) where a pile cage, to support the new halt station's platform level, was spotted getting lowered into the ground. Looking at it again, this possibly could also be a rebar cage, that still needs to be properly tied up, for the first pier.
Pile cage getting lowered by Som Projects for #Delhi Metro's Green ⇄ Pink line interchange project.

They're retrofitting an entirely new halt station with platforms on the operational viaduct of the Green Line to rectify a Phase 2 mistake.

Design ICYMI: https://t.co/UFOcZBlqrk pic.twitter.com/NPREphs0wQ

— The Metro Rail Guy (@TheMetroRailGuy) September 28, 2020
Som Projects was awarded this project's Rs. 46.77 crore 13-month contract in August 2019, so in the ideal world civil work should have been completed by now, but clearly hasn't. I'm unaware of the new deadline they're chasing but am glad to see things moving along.
For more updates, check out the Delhi section of The Metro Rail Guy!
– TMRG