Maharashtra's Chief Minister on Sunday announced the state government's decision to move the 33.5 km Mumbai Metro Line-3 (Aqua Line)'s planned train maintenance depot (carshed) due to environment concerns from its original location at Aarey Colony to Kanjurmarg where the 15.2 km Line-6 (Pink Line)'s depot is planned.
The state's environment minister subsequently tweeted that Line-3 & Line-6 will share a common depot, have the same technical specifications, and headway times will be maintained as originally planned.
This decision was announced without specifying any underlying technical reasoning or empirical analysis, or ramifications to overall cost, time lost and execution challenges. How could it when no proper feasibility report has been prepared? In fact, the government's appointed four-person committee in January 2020 had recommended to stick with the the Aarey Colony site. They explored alternate locations, but the panel found no viable alternate and instead recommended the government to lift the existing stay, placed in November 2019, on construction work.
I've read reports and tweets laden with conjectures from both sides – prior and following the decision – and believe most of what is being said by either side is exaggerated. To paraphrase a couple statements:
"This will require an entirely new 6 km parallel line (SEEPZ to Kanjurmarg)". Nope – a roughly 1 km new ramp with a turn-out at Line-6 will suffice.
"This will lead to a cost escalation of Rs 4000 to 5000 crore". Nope – in terms of purely civil construction, the new ramp will cost max Rs. 100 crore. More on that later.
"This will save the Aarey Colony site". Nope – in fact the new ramp will have to pass to through the original site. More on that later.
To start off, here are three questions. First, was there anything in the first place at the original site in particular to save? The site is located off of the busy Jogeshwari – Vikhroli Link Road (JVLR) and at the extreme southern-end of, not even within, Sanjay Gandhi National Park.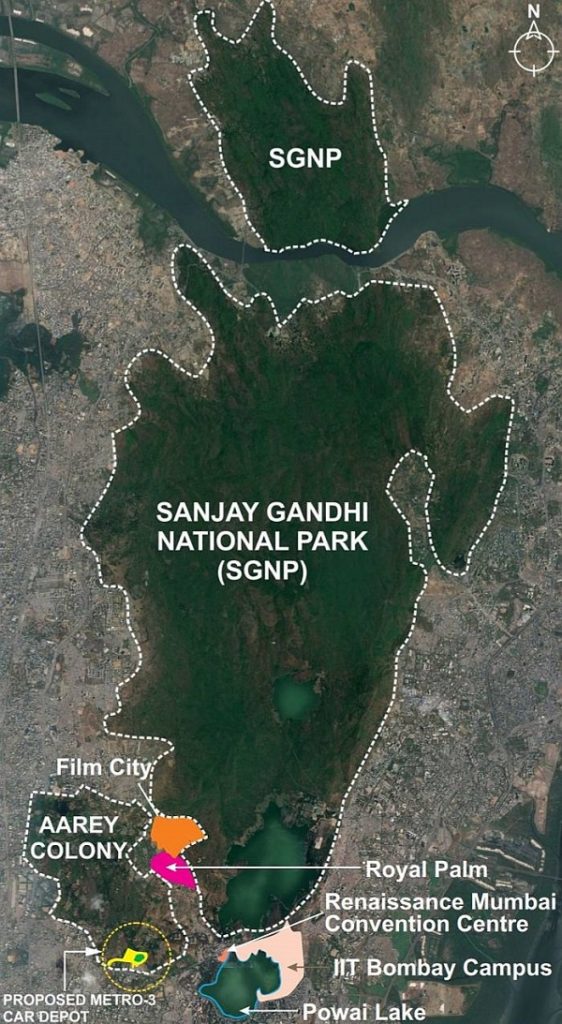 Second – 2141 trees on the site have already been cleared off in early October 2019 following the Bombay High Court's decision to uphold the Brihanmumbai Municipal Corporation's prior approval. So what's now being saved there? Gravel, soil or trash?
Third – where were the current state government's members and activists when residential developments and the Film City were constructed on sites deep within the National Park? And what about when massive new developments, such as this, that continue to grow and creep into the western and eastern flanks of what used to be part of the National Park?
Now, let's take a look at satellite imagery of the northern end of the line where L&T-STEC JV has built the Sariput Nagar Ramp & TBM Launch Shaft under Package UGC-07. Tunneling works from this shaft to SEEPZ Station were completed in December 2018 for the 566m down-line tunnel and in August 2019 for the 571m up-line tunnel.
Just east of it is the Aarey Colony Depot site where the line's only at-grade station was planned with a train-reversal facility. The depot & its station's Rs 328 crore construction contract was awarded to Sam India Builtwell in 2017, and that included preparatory works, such as cutting trees and building storm water drains.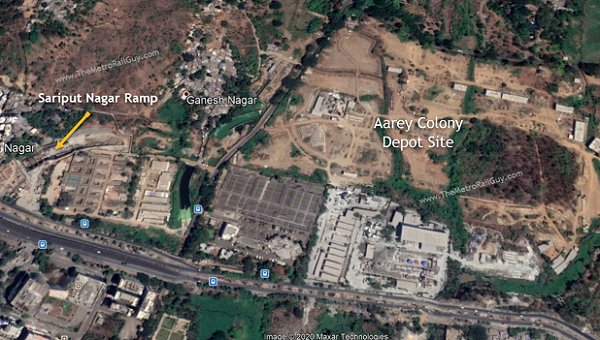 With the twin-tunnels and ramp already built and positioned in an eastern-facing direction towards the original depot site, how will Line-3's new ramp connect up with Line-6's elevated line? There's an entire substation sandwiched between JVLR and the original depot site. Without dismantling it, the new roughly 1 km ramp connection will have to skirt around its north-side, thereby passing through the original depot's site, and then link up with Line-6.
Here's an indicative or rudimentary look at how the new connection's projected path with a turnout at Line-6 will likely resemble requiring more trees to be cut. So again, how has Aarey been or going to be "saved"?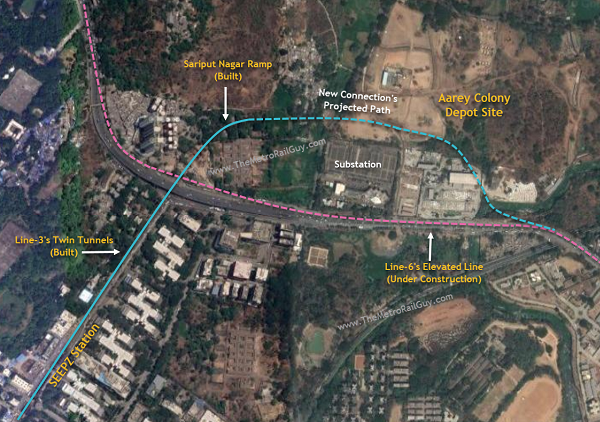 Looking at civil contract values for metro lines in Mumbai, I estimate the new ramp connection to cost no more than Rs 100 crore which is a significant amount, but definitely not Rs 4000 or 5000 crore as being claimed by those in favor of the original location. That said – Mumbai, and by extrapolation India, will be losing out on potential economic gains from increased productivity had the line not faced this issue. More lives will unnecessarily continue to be lost daily on the suburban rail lines.
With Aarey Colony Station no longer in the works, that also means the train-reversal facility is gone. Where will this be built? Without one at the extreme-end of the line, the system's throughput will be affected and high headways of 2 minutes or less cannot be maintained. The basic civil structure of SEEPZ Station is ready and I don't see its northern end or its twin tunnels being partially demolished to allow for one.
With Line-3's 8-coach train-sets utilizing Line-6's viaduct (being built for 6-coach train-sets) to access the main-line in the mornings and Kanjurmarg Depot in the nights, this could necessitate a redesign in the load bearing capacity of Line-6's superstructure. If anything – cost will go up, and not the other way around. The shorter length of Line-6's stations doesn't really matter since Line-3's rolling stock will not necessarily have to service Line-6. Two sets of rolling stock can be maintained for each.
One also needs to ask what kind of message does this send to foreign lenders? Without a feasibility report, project plan or a new environment impact assessment getting prepared, all of this really just throws more questions than answers.
A common depot for both (or more) lines is not necessarily bad, but the timing of this entire issue and episodes within it leaves no doubt that there were no genuine environment concerns to begin with. The incumbent Chief Minister started digging a hole when further construction work was halted in November 2019, and there was no way to backtrack and wiggle out of it without losing face.
But now that a decision has been made, this line's opening for commercial service has easily been pushed back by a minimum of 4 years. Pre-construction activities of preparing the above reports (if needed), tendering for various investigations, utility shifting, detailed design consultants (DDC) and preparation of the design itself will take a minimum of 2 years. That will be followed up with another year of tendering for construction-work, with another year for actual construction.
I really don't see how any of this is a "massive victory for the citizens of mumbai", especially since compensatory plantation with strict oversight and other environment friendly activities all around the city could have easily been pursued for greater effect if the ecology and environment were genuine concerns to begin with.
For more updates, check out the Mumbai section of The Metro Rail Guy!
– TMRG