Paras Railtech and Pragati Construction Consultants are the two bidders for constructing a 289.65 meter cut and cover tunnel (Package CC-126A) on the 1.218 km Najafgarh – Dhansa Bus Stand extension of Delhi Metro's Grey Line, after officials from the Delhi Metro Rail Corporation (DMRC) opened technical bids this afternoon.
This underground tunnel of the Phase 3 project's Package CC-126 was originally awarded to Shanghai Tunnel Engineering Co. Ltd. – SUCG Infrastructure India Pvt Ltd (STEC – SUCG IN JV) in October 2017, and tunneling breakthroughs were recorded by the team using one tunnel boring machine (TBM) on January 18 and June 26, 2019.
As shared earlier – my industry sources indicate that a construction site collapse had occurred in July on a 90 meter wide cut and cover portion due to heavy rainfall and ingress of water at the extreme western end of the line, and due to that the DMRC removed a 289.65 meter portion of the up-line tunnel's construction from STEC – SUCG IN JV's scope of works.
DMRC invited bids for this tunnel pending work on September 21 with an estimate of Rs 48.99 crore and expects the assigned contractor to complete works within 120 days (4 months).
Contract: CC-126A
Brief Scope: Construction of Cut and Cover tunnel box from Chainage 5050.35 (UP Line) to 5340.00 (UP line) for extension of Dwarka Najafgarh Metro Corridor of Delhi MRTS Phase-III (view detailed project scope)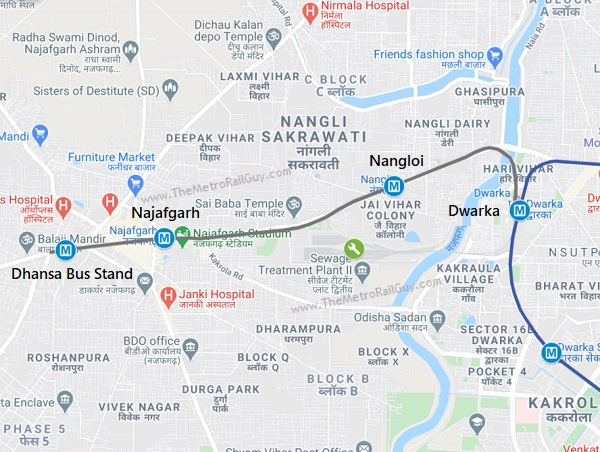 Both bids have now been sent for technical evaluation which can take a couple months to complete. When that is over, the financial bids of the technically qualified bidders will be opened to reveal who's the lowest bidder and most likely contractor.
Paras Railtech last month won the track-work contract for the Airport Express Line's 1.878 km extension to Dwarka ECC Station, while Pragati Constructions is currently building the Pink Line's 288.38 meter missing link in Trilokpuri between the Mayur Vihar Pocket-1 and Trilokpuri-Sanjay Lake stations.
For more updates, check out the Delhi section of The Metro Rail Guy!
– TMRG