Engineers from Larsen & Toubro last week commissioned Tunnel Boring Machine Vindhya (DZ671) from Cantonment Station for building tunnels on the 21.386 km Line-4 (Reach 6 / Pink Line) of the 73.92 km Bangalore Metro Phase 2 project.
Like TBM Avni at Shivajinagar, this TBM was commissioned without any major celebratory launch event or even a press release by the Bangalore Metro Rail Corporation Ltd. The BMRCL imposed a strict gag order banning the use of electronics in and around their sites after a sinkhole emerged at Shivajinagar, so I don't have any images to share at this time. If and when they do become available, I'll add them in here or tweet them out.
With this, Vindhya has now become the third machine, after TBM Urja (DZ670) and TBM Avni (DZ669), to start excavation works on the 13.885 km underground section and the second machine on the 2.884 km Package RT-03 (Shivajinagar – Tannery Road) which was awarded by BMRCL in February 2019.
As of Tuesday, Vindhya had built 5 temporary rings within the station, each comprising of 5 segments + 1 smaller 'key' segment. For whatever it's worth, here's a snap from September with Vindhya lined up on the left and the tunnel rings built by Urja on the right.
This Ø6.67m slurry machine (DZ671) was manufactured by China Railway Construction Heavy Industry Co., Ltd. (CRCHI) and lowered into the Cantonment Station's southern-end in May 2020.
Like Urja, it will first travel roughly 860 meters to Shivajinagar, and then be brought back to the Cantonment Station for building tunnels towards Pottery Town and Tannery Road stations. Per BMRCL's earlier press release for TBM Urja, the "expected geology in this tunnel section is about 250m in Hard Rock, 350m in mixed-ground conditions and about 255m in soil."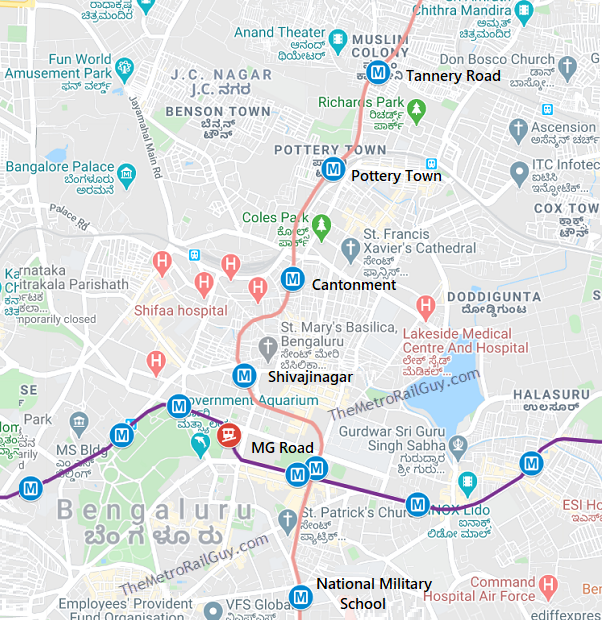 In other Phase 2 news, I hear the BMRCL on Monday invited the Commissioner for Metro Rail Safety (CMRS) to inspect the Green Line's 6.29 km Yelachenahalli – Anjanapura section for date(s), that are unknown to me, after Dussehra (October 25). Also, Rina Services S.p.A. – the Independent Safety Assessor (ISA) – plans to submit their system integration and testing report on October 16. I was a little surprised the invite was sent without it, but I guess BMRCL wanted to first secure the date(s).
For more updates, check out the Bangalore section of The Metro Rail Guy!
– TMRG