Mumbai Metropolitan Region Development Authority (MMRDA) today opened technical bids for the General Consultant (GC) contract to support civil work of Mumbai Metro's 9.20 km Line-10 (Gaimukh – Shivaji Chowk in Mira Road) and 20.7 km Line-12 (Kalyan – Taloja) to reveal five firms / consortia have submitted bids for this service.
The role of the General Consultant would include design / design review, assistance in procurement, construction supervision (including monitoring of statutory obligations), project management services, contract administration and interface management including assistance in testing and commissioning of both lines.
MMRDA had invited bids in July and expects the GC to be onboard for 48 months. The GC's selection is planned to be made on the Quality cum Cost Basis System (QCBS) method with the winner scoring the highest points in Technical and Financial evaluation combined together.
Bidders:
AECOM
Ayesa
DB Engineering & Consulting
MM – SMEC JV
SYSTRA
Tender No: MMRDA/Metro- PIU/0002141
Brief Scope: Appointment of General Consultant for Civil work of Metro Line 10 (Gaimukh To Shivaji Chowk (Mira Road) and Metro Line 12 (Kalyan to Taloja)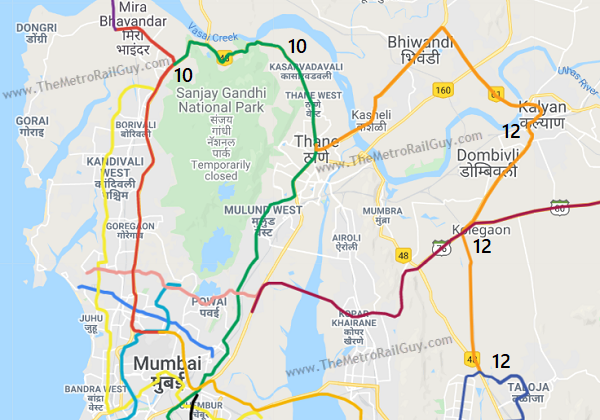 Mumbai Metro's Line-10 will be built as a western extension of the 35.2 km Line-4/4A (Green Line) with 4 stations at Gaimukh Reti Bundar, Varsova Char Phata, Kashimira and Shivaji Chowk. Earlier this month, MMRDA relocated Line-9's Pandurangwadi Station to near the old Dahisar Octroi and this will serve as the new interchange for Line-9 & Line-10, possibly making it the 5th station for Line-10.
Line-12 will be built as a 20.75 km southern extension of the 24.95 km Line-5 (Orange Line) with 17 stations at Ganesh Nagar, Pisvali Gaon, Golavali, Dombivli MIDC, Sagaon, Sonarpada, Manpada, Hedutane, Kolegaon, Nilaje Gaon, Vadavali, Bale, Waklan, Turbhe, Pisarve Depot, Pisarve, Taloja. The line's depot is planned at Pisarve.
Per the tender documents, the main role of GC will be as follows:
GC will review, the details given in the DPR of the respective Project for various components with regard to safety, economy, energy conservation, environmental aspects, implementation schedule, and other relevant aspects. A copy of the Executive Summary of the DPR for Mumbai Metro is given in Project summary. Detailed copy of DPR's can be given to successful bidder on demand.
GC will prepare tender documents, design and provide all necessary assistance in evaluation, negotiations (if necessary) of bids invited by MMRDA and award of contracts.
GC will scrutinize and put up for approval of MMRDA designs / drawings for construction, as submitted by 'Design & Construct' Contractors.
GC will review and proof check the designs of Detailed Design Consultants for 'Construct only' contracts and proof-check the designs of contractors for 'design and construct' basis contracts and put up to MMRDA for approval
GC will render all necessary assistance to MMRDA in the preparation of estimate, tendering and bidding process, selection of Contractors, suppliers, manufacturers, detailed design consultants and other related services of Metro system.
GC will ensure adherence, to the standards prescribed by MMRDA, by contractors with regard to safety of works, safety of adjoining and overlying structures, safety of workmen and safety of public during construction stage.
GC will certify the quantum of work done, its quality and the payments to be made to various agencies engaged in the implementation of the project.
GC will co-ordinate, review/monitor the efforts of all contractors including but not limited to Civil, DDC, Architectural and PEB Finishes, sub-contractors appointed by the contractors, consultants, suppliers, manufacturers and vendors.
GC will carry out construction/erection supervision at all levels including contract administration, safety, quality and environmental aspects.
MMRDA will decide on O&M strategy in due course; however, GC shall assist with integration of all components towards operationalizing the line and advice on O&M strategies.
GC will plan and arrange for training of personnel of MMRDA or engineers appointed by MMRDA as and when needed or instructed by MMRDA. The price for the same is deemed to be included in the bidder's offer. No separate arrangement for location or training equipments will be provided by MMRDA.
GC will assist MMRDA in keeping the Commissioner of Metro Railway Safety (CMRS) Government of India or appropriate authority shall be informed about project design/construction and obtaining intermediate approvals as required.
GC will assist MMRDA in ensuring tests, trials and commissioning of the system including obtaining final sanction from Commissioner for Metro Railway Safety or appropriate authority.
GC will provide schemes for integration with other modes of transport, including related transportation planning and assist MMRDA in putting in place a mechanism of 'seamless travel' through various modes of public/private transport.
GC will provide proper interface co-ordination to ensure timely completion of all works on time and commissioning of the project as programmed.
GC will advise MMRDA on various options of property development with respect to optimal utilization and integration of the Commercial land available with MMRDA including exploitation of airspace at depot/stabling yard/other places.
GC will issue GFC drawings only after reviewing & verifying the BIM models and their clash free feasibility between various disciplines e.g. structural v/s architectural, structural v/s MEP.
GC will be responsible for the overall progress and completion of project
For more updates, check out the Mumbai section of The Metro Rail Guy!
– TMRG