The National Capital Region Transport Corporation (NCRTC) today invited tenders (bids) for appointing a General Consultant (GC) for the under construction 106.5 km Delhi – Gurugram – SNB (Shahjahanpur – Neemrana – Behrod) Regional Rapid Transit System (RRTS) line.
The appointment of a dedicated General Consultant is expected to pave the way for this semi high-speed rail line's speedy implementation through assistance in design, supervision, safety, quality control and contract management.
Bid Reference: DA/GC/COR-OF/023
Brief Scope: National Capital Region Transport Corporation Ltd. (NCRTC), a joint venture Company of Government of India and participating States invites open e-bids (open competitive bidding (OCB)) (Electronic bid) for the following contract package: Engagement of General Consultant for Delhi-Gurugram-SNB Regional Rapid Transit System (RRTS) Corridor.
Completion Period: 60 months
Pre-bid Meeting: 17.11.2020 at 15:00 Hrs
Date & Time of Submission of Tender: 15.12.2020 up to 15:00 Hrs
Date & Time of Opening of Tender (Technical Bid): 16.12.2020 at 17:00 Hrs.
Like the 82.15 km Delhi – Meerut RRTS line, the Delhi – SNB RRTS line will also have a design speed of 180 km per hour and an operating speed of 160 km per hour. In the future, it will be extended further southward to Sotanala by 35 km and to Alwar by 58 km.
It will consist of 16 stations at Sarai Kale Khan, INA, Munirka, Aerocity, Udyog Vihar, Gurugram Sector 17, Rajiv Chowk, Kherki Daula, Manesar, Panchgaon, Bilaspur, Dharuhera, MBIR, Rewari, Bawal and Shahjahanpur – Neemrana – Behrod (SNB).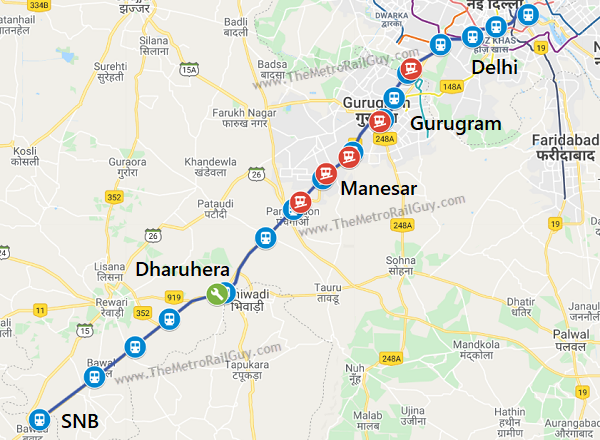 Back in September – KEC International started piling work in Gurgaon through a subcontract for a 10 km elevated section which was awarded to GR Infraprojects Ltd. (GRIL) in May 2020. Around the same time, a consortium of SYSTRA-AECOM emerged as the lowest bidder for the 62 km Kherki Daula Toll Plaza – SNB section's Detailed Design Consultant (DDC) contract.
NCRTC has been in talks with Japan International Cooperation Agency (JICA) and the World Bank to finance this RRTS line's development for yet-to-be disclosed loan amounts. A list of contracts awarded so far can be viewed here.
For more updates, check out the NCR RRTS section of The Metro Rail Guy!
– TMRG