BEML trains operating on Bangalore Metro's 24.20 km Green Line connecting Hesaraghatta Cross (Nagasandra) with Yelachenahalli are now equipped with new static display maps showcasing upcoming new stations of the Green Line and connecting new routes of the 73.92 km Bangalore Metro Phase 2 project.
This includes 3 stations on the Green Line's under construction 3.031 km northern extension at Manjunathnagar, Chikkabidarakallu (formerly Jindal) and Madavar (formerly BIEC), and 5 stations on the soon-to-be-opened 6.29 km southern extension at Doddakallasandra (formerly Krishna Leela Park) , Konankunte Cross (formerly Anjanapura Cross Road), Vajrahalli, Thalgattapura and Anjanapura (formerly Anjanapura Township). Also included is the under construction 19.143 km Yellow Line which will connect RV Road with Bommasandra.
Interestingly enough, the maps also showcase the longest of Bengaluru's three proposed Metrolite lines – the roughly 30 km line on the western section of the Outer Ring Road connecting Hebbal – Goraguntepalya – Jayaprakash Nagar.
This new light rail is currently in the proposal stage and was assigned as the city's Orange Line in 2019 by the Bangalore Metro Rail Corporation Ltd. (BMRCL). It is expected to primarily run at-grade within a dedicated fenced-in corridor and run elevated at major junctions – see details and an indicative route map of the project here.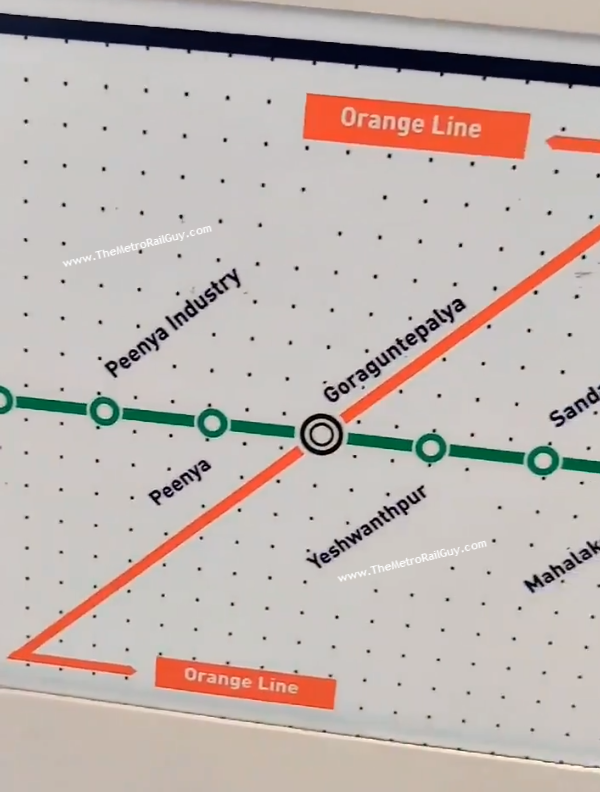 This metrolite line's origins lie in a comprehensive mobility plan (CMP) prepared by Infrastructure Development Corporation (Karnataka) Ltd. which proposed the development of 3 corridors under Bangalore Metro's upcoming Phase 3 project.
In March 2020, Karnataka's Chief Minister announced during the budget speech that 2 metrolite corridors in West Bengaluru (ORR-West and Mysore Road Toll Gate – Kadabagere) will be developed through the public private partnership (PPP) model and the Detailed Project Report (DPR) for both will be prepared. The current status of that document remains unknown, but it definitely has not been presented to the Karnataka state government.
A video with the new route map was shared by photojournalist Ashishkrishna Pendse on Twitter and can be viewed here.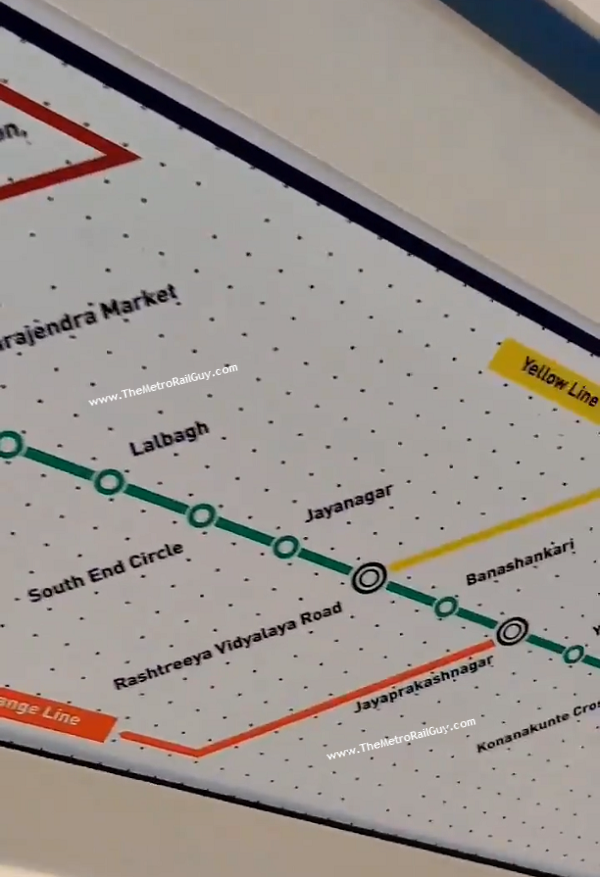 Personally I think this is bizarre and will be highly confusing to both existing and new riders – like this Twitter follower. The Metrolite line is easily 7+ years, if not 10+ years, away from becoming commercially operational and prior to that it has many hoops to jump through before construction on it can even start.
Perhaps the BMRCL is trying to future-proof their trains to save some money? Or perhaps they're trying to generate rider interest / buzz? If the latter is the case, then I would have preferred displaying a large future network map at key stations, just like how the Delhi Metro Rail Corporation (DMRC) has done in the past. During my visits, I often joined other Dilliwalas to marvel at what's cooking. I'm sure riders in Bengaluru would do too.
For more updates, check out the Bangalore Metro and *new* Metrolite sections of The Metro Rail Guy!
– TMRG
Hat-tip: Tulasi Gowda