The National Capital Region Transport Corporation (NCRTC) and Bharat Electronics Limited (BEL) on Friday signed a memorandum of understanding to develop indigenous platform screen doors (PSDs) under the Atmanirbhar Bharat, or self-reliant India, initiative.
These PSDs are intended for use in India and abroad across all transport systems such as bus rapid transit systems (BRTS), mass rapid transit systems (MRTS / metro), regional rapid transit systems (RRTS / commuter rail), high speed rail (HSR) systems, and mainline railway lines.
Besides preventing suicides and reducing accidents due to passenger movement, PSDs greatly help to reduce maintenance costs in underground stations by improving the quality of the environment, resulting in lower air-conditioning and ventilation costs.
NCRTC had invited Expression of Interest (EOI) applications back in July from Indian engineering and manufacturing firms for their partnership to locally develop PSDs, and at this time it's unknown as to how many firms or who all submitted applications. Finer details of the MoU, such as the responsibilities of each party, have not been disclosed.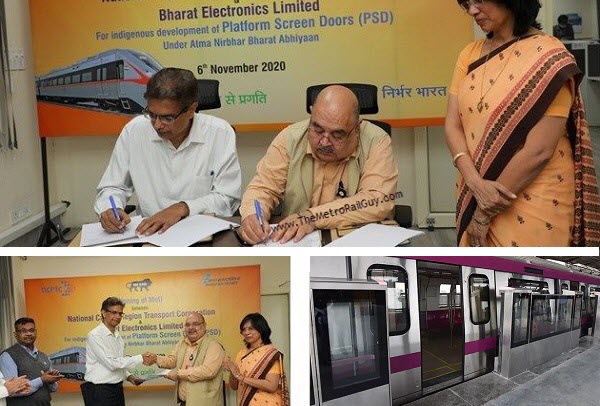 Here are some excerpts from NCRTC's original EOI notice, shared earlier, which describes the rationale behind indigenizing this system. In a nutshell, it aims to support the government's initiative to locally produce, manufacture and consume its own products and services without relying on fragile global supply chains. The portions in bold are my emphasis.
Background
The Covid-19 pandemic is having a major impact on all economic activities, including manufacturing in most parts of the world. Supply chain disruptions in many sectors have been witnessed, the results of which shall become more pronounced in future. For a world that must quickly come to terms with the new normal, it is imperative that manufacturing activities are quickly resumed and ramped up, which would help in restoration of normalcy and in avoiding shortages that may adversely affect international economic recovery.
A key lesson for businesses, emerging from the Covid-19 aftermath, is that the decentralizing of manufacturing will have to be adopted as a major strategy to mitigate disruption risks associated with concentrated and localized operations. India, being one of the fastest growing economies in the world, offers a wide range of opportunities for investment and adoption of new technologies as well as markets for their absorption. Government of India envisions India as a key engine of global growth and is putting in place various supporting initiatives to make India a US$ 5 trillion economy. Atma Nirbhar Bharat, or self-reliant India, shall be one of the important pillars in realising this aim.
NCRTC has planned its journey of project implementation by bringing technologies that are not yet available within the country. All attempts are being made towards the aim of Atma Nirbhar Bharat by adopting Make in India in its true spirit. Going a step further, NCRTC has assumed the responsibility of bringing the technology of manufacturing PSD in India. There exists huge demand for affordable locally produced PSD in upcoming Metro/RRTS and High-Speed Rail system in India. There is also requirement for retrofit works in existing Metro systems for ensuring passenger safety. NCRTC would like to take initiative in promoting long term partnerships in localization and manufacturing PSD with prospective partners.
Objective
NCRTC is actively seeking long term partnership from PSD/PSD component manufacturers, with the common objective of developing, manufacturing, and commissioning PSD system and interface with Train Control system (Wired and Wireless)
The first common objective of the parties (NCRTC and the selected party(ies) would be to undertake indigenous development of PSD as per international standards compatible with different Train Control systems of Metro / RRTS / High speed/ main line Railway systems. Development in this context would include design, prototype manufacturing, testing and validation of PSD system to specified standards.
As a second common objective, the parties, in partnership, shall take orders from different Rail Based systems in India and abroad to execute PSD works through indigenously manufactured PSD system.
Partnership
The partnership with the selected prospective partner will be entered into through a selection process from the interested parties for this project. The partnership will include the following:
Preparation of overall design of PSD system
Making available other electromechanical components required for
Platform Screen Doors locally.
Preparing overall structural design and local manufacture of the structural part of PSD.
Obtaining product certification Research Institutions, PSUs, Corporate and International OEMs meeting requisite quality and safety requirement of a PSD system are invited to express their interest for the above initiative.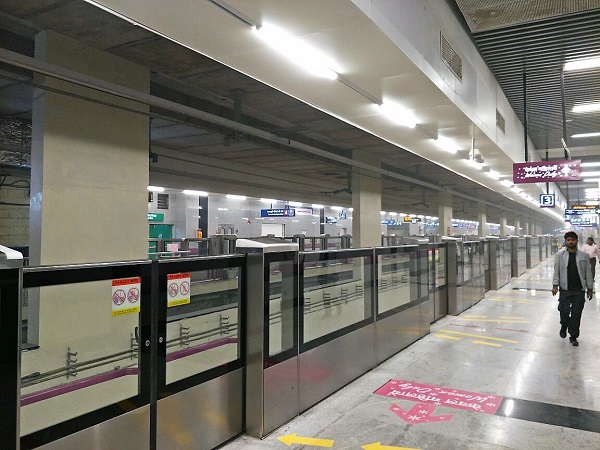 Till now, the PSDs used in India have been imported and supplied by foreign firms such as NRT-Stone India, KTK-AIKON, and CRRC Zhuzhou-Panasonic. They are currently operational across Chennai Metro's underground stations, Delhi Metro's Yellow (few stations), Pink, Magenta & Airport Express lines, Noida Metro, Kolkata Metro's Line-2, and in the coming years are planned to be installed in Mumbai (Line-2, 3, 4 & 7), Ahmedabad, Pune and Nagpur.
For more updates, check out the Home Page of The Metro Rail Guy!
– TMRG