The Mumbai Metropolitan Region Development Authority (MMRDA) today invited bids for the signalling, train control and platform screen doors system of Mumbai Metro's 32.32 km Line-4 (Green Line) connecting Bhakti Park in Wadala – Vikhroli – Thane – Kasarawadavali and its 2.88 km Line-4A extension from Kasaravadavali – Gaimukh.
The tender documents are not yet up on MMRDA's website, but like Mumbai Metro's Line-2 (Yellow Line) and Line-7 (Red Line), whose signalling contract was won by Alstom in 2019, a communications-based train control (CBTC) signalling solution is expected to be deployed to enable high frequencies and headways of 1.5 minutes (90 seconds) with unattended train operations (UTO) or driverless operations in the future, if desired.
Platform screen doors (PSDs) with half-height will be installed on all 34 elevated stations of the line (32) and its extension (2) for passenger safety to prevent suicides & accidents during passenger movement.
Contract: MMRDA/4 & 4A/CA72
Scope: Design, Manufacture, Supply, Installation, Testing, and Commissioning of Signalling and Train Control including Platform Screen Doors system for Main Line and Depot of Line 4 and Its Extension Corridor (Wadala – Kasarvadavali – Gaimukh) of Mumbai Metro Rail Project of MMRDA
• Sale of Tender Documents: 05.05.2020 to 23.06.2020 (up to 1200 hrs.)
• Completion Period: 137 weeks
• Pre-bid Meeting: 15.05.2020 at 1100 hrs
• Bid Submission End Date: 23.06.2020 up to 1200 hrs
• Bid Opening Date: : 24.06.2020 @ 1100 hrs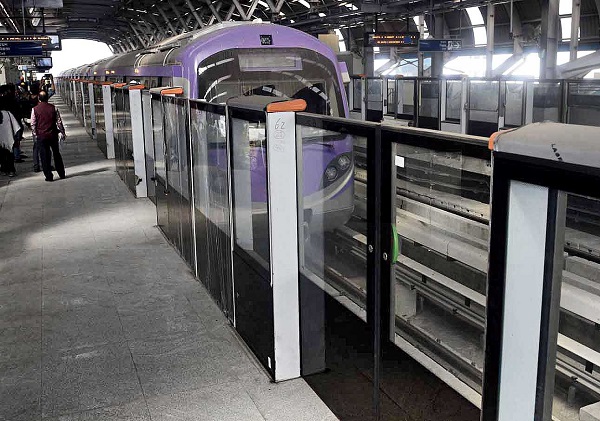 After the 234 coach rolling stock tender notice, this is the second significant systems procurement related tender notice the MMRDA has published for this metro line that will traverse the eastern part of the city – view route map.
The recent post on Siemens emerging as Bangalore Metro Line-3's lowest bidder for its CBTC solution has a comparison of the old fixed-block signalling solution versus CBTC with videos and linked illustrations – check them out.
Platform screen doors are currently operational across Chennai Metro's Blue & Green lines, Delhi Metro's Yellow (few stations), Pink, Magenta & Airport Express lines, Noida Metro's Aqua Line, Kolkata Metro's Line-2, and in the coming years will be installed in Mumbai (Line-2, 3, 7), Ahmedabad, Pune and Nagpur.
For more updates, check out the Mumbai section of The Metro Rail Guy!
– TMRG